Specificity, Function, and Development of NK Cells
NK Cells: The Effector Arm of Innate Immunity
£94.50
(To see other currencies, click on price)
Paperback / softback
---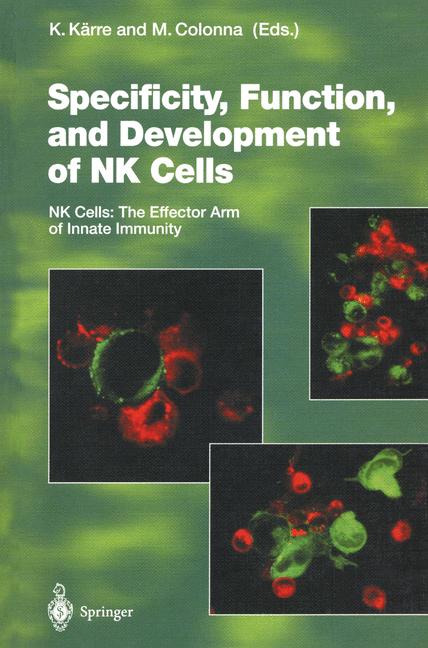 MORE ABOUT THIS BOOK
Main description:
Our understanding of the function of natural killer (NK) cells has dramatically changed in recent years. The discovery of NK receptors specific for MHC class I molecules, and the study of the role of co-stimulatory and adhesion molecules have led to an understanding of how NK cells recognize tumor and virally infected cells that have lost expression of MHC class I molecules or have altered distribution of normal cell surface molecules. Such recognition events lead to intracellular signals which can be either stimulatory or inhibitory. This book provides an insight into how NK cells develop, how they learn to distinguish altered cells from normal cells, and into their biological role in controlling infections and tumors.
Feature:
Presents recent advances on the function of natural killer cells
Contents:
A. NK Receptors and Coreceptors.- Regulation of Mouse NK Cells by Structurally Divergent Inhibitory Receptors.- Stimulatory Receptors in NK and T Cells.- Killer Cell Inhibitory Receptor Expression by T Cells.- The CD94/NKG2 C-Type Lectin Receptor Complex.- Triggering of Natural Killer Cell Mediated Cytotoxicity by Costimulatory Molecules.- Fc Receptors on Natural Killer Cells.- Adhesion in NK Cell Function.- B. Activation of NK Cells and Effector Functions.- Signal Transduction During NK Cell Activation: Balancing Opposing Forces.- Effector Pathways of Natural Killer Cells.- C. Development of NK Cells.- Toward a Quantitative Analysis of the Repertoire of Class I MHC-Specific Inhibitory Receptors on Natural Killer Cells.- Ontogeny and Differentiation of Murine Natural Killer Cells and Their Receptors.- D. Role of NK Cells in Infections and Tumors.- Control of Infections by NK Cells.- Natural Killer Cells and Tumor Therapy.
Related books
From the same series