An essential book for all accident and emergency departments, plastic surgery units, and burn facilities.
---
---
This book provides concise, case-based discussion on the clinical scenarios and challenges faced in the provision of anesthesia and pain relief for expectant mothers
---
---
---
This book is designed to sustain that growth of knowledge, with 18 chapters of insight and information by distinguished medical experts in both paediatric anaesthesia and paediatric otolaryngology.
---
---
The fourth edition of the Oxford Handbook of Acute Medicine has been revised throughout to include the most up-to-date guidelines and treatment management plans. With new figures and clinical tips, and a brand new chapter on the older patient, this edition remains the must-have resource for all those dealing with acute illness.
---
---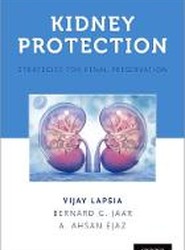 Kidney Protection is the first practical handbook on renal protection for the busy clinician caring for patients with kidney disease in the ICU, perioperative, or out-patient settings. Chapters review the basics of kidney disease, assessment, preventing renal injury and renal preservation in a concise and lucid format that emphasizes guidelines for clinical practice.
---
---
Functional MRI: Basic Principles and Emerging Clinical Applications provides an overview of the basic principles of fMRI for clinicians with minimal knowledge of the imaging technique and its research potential and clinical applications. Timely and highly accessible, this book is a valuable resource for researchers and clinicians interested in understanding what fMRI is, how it works, and its applications.
---
---
Emergency Medicine Board Review is a comprehensive guide for preparing for the American Board of Emergency Medicine (ABEM) certification or ConCert recertification exam, and for residents preparing for in-training examinations in Emergency Medicine. The text consists of over 900 multiple-choice questions, organized into 20 chapters covering topics such as gastrointestinal, cardiovascular, and nervous system emergencies, as well as various disorders. Questions are written in a case-based format that emulates the ABEM and ConCert exams, and are supplemented by numerous figures, tables, and boxes.
---
---
The Oxford Textbook in Neuroscience and Anaesthesiology addresses all aspects of neuroanaesthesiology. Edited by an international team of experts this textbook reflects world-wide practice.
---
---