The Oxford Handbook of Palliative Care is a concise, comprehensive guide to palliative care, covering all aspects from symptom relief to emotional and spiritual support for the patient and their family. Written to enable quick access to key information, this is the invaluable companion for those in the palliative care field.
---
---
Pocket Radiation Oncology is a practical, high-yield reference offering current, evidence-based practices and expert guidance from physicians at the world-renowned MD Anderson Cancer Center.
---
---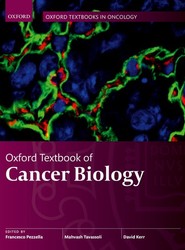 The Oxford Textbook of Cancer Biology brings together the multifaceted branches of the study of cancer biology into one coherent volume, providing a comprehensive and up-to-date account of this complex and rapidly evolving field.
---
---
Cancer Caregivers reveals the field of Psycho-Oncology's exploration of the depth of complexities of caregiving experiences and identifies the vast expanses left to be understood. This text describes the characteristics and experiences of cancer caregivers based on their life stage, relationship to the patient, and ethnic group membership, as well as patients' disease and treatment type. It highlights the significant progress in research focused on the development and dissemination of psychosocial interventions for cancer caregivers, and includes in-depth case studies to illustrate their delivery and application. The text also explores the provision of support to caregivers in the community and the legal and ethical concerns faced by caregivers throughout the caregiving process. Cancer Caregivers offers both fundamental and practical information and is the essential resource for all healthcare professionals who work with patients and families facing cancer.
---
---
Easily accessible and clinically focused, Abeloff's Clinical Oncology, 6th Edition, covers recent advances in our understanding of the pathophysiology of cancer, cellular and molecular causes of cancer initiation and progression, new and emerging therapies, current trials, and much more. Masterfully authored by an international team of leading cancer experts, it offers clear, practical coverage of everything from basic science to multidisciplinary collaboration on diagnosis, staging, treatment and follow up.
---
---
The Oxford Textbook of Palliative Nursing remains the most comprehensive treatise on the art and science of palliative care nursing available. Dr. Betty Rolling Ferrell and Dr. Judith A. Paice have invited 162 nursing experts to contribute 76 chapters addressing the physical, psychological, social, and spiritual needs pertinent to the successful palliative care team. This fifth edition features several new chapters, including chapters on advance care planning, organ donation, self-care, global palliative care, and the ethos of palliative nursing.
---
---
---
The fourth edition of the Oxford Handbook of Acute Medicine has been revised throughout to include the most up-to-date guidelines and treatment management plans. With new figures and clinical tips, and a brand new chapter on the older patient, this edition remains the must-have resource for all those dealing with acute illness.
---
---