The Oxford Handbook of Palliative Care is a concise, comprehensive guide to palliative care, covering all aspects from symptom relief to emotional and spiritual support for the patient and their family. Written to enable quick access to key information, this is the invaluable companion for those in the palliative care field.
---
---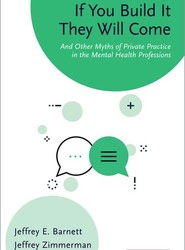 Jeffrey Barnett and Jeffrey Zimmerman share practical advice based on their decades of clinical experience to address common myths about private practice in an easily accessible manner. Myths addressed fall into the broad areas of preparing for private practice, building your practice, managing your practice, documentation and record keeping, and ethical practice. Each chapter addresses a specific myth that may be held, describes the myth, explains why the myth exists, and then offers specific guidance for moving beyond the myth. In addition to the specific recommendations and strategies provided in each chapter, each section offers a list of key resources available for additional guidance and support.
---
---
Unconditional Education outlines an approach by which schools serve students through the integration of special education, general education, and mental health systems. In building the capacity of their communities, schools can meet the needs of their most marginalized students and create inclusive environments in which all students have the opportunity to thrive.
---
---
In the Fullness of Time debunks the common myth that BPD is incurable, drawing on the findings of the NIMH-funded study, the McLean Study of Adult Development, which has found that BPD has the best symptomatic outcome of all major mental illnesses.
---
---
Healing the Distress of Psychosis presents a novel approach to communicating with clients who are suffering from severe psychosis, whose brain functions are uniquely different and require an entirely new way to listen and engage with them.
---
---
Child and Adolescent Anxiety Psychodynamic Psychotherapy, CAPP, is a new, manualized, tested, 24-session psychotherapeutic approach to working psychodynamically with youth with anxiety disorders. This manual provides a description of psychodynamic treatment principles and technique and offers a guide to opening, middle, and termination phases of this psychotherapy. Its chapters cover important topics such as the historical background of psychodynamic child psychotherapy, developmental aspects of child psychotherapy, and the nature of parent involvement in the treatment.
---
---