AN INNOVATIVE AND ESSENTIAL NEW TOOL IN FIGHTING HEALTHCARE-ASSOCIATED INFECTIONS The Handbook of Pediatric Infection Prevention and Control is the most comprehensive, practical resource available on infection prevention across the spectrum of pediatric healthcare settings, including acute care hospitals, ambulatory practices, and long-term care facilities. It addresses the nuances and challenges specific to pediatric infection prevention, providing expert guidance on topics where evidence-based guidelines don't currently exist. *** The Handbook of Pediatric Infection Prevention and Control is a publication of the Pediatric Infectious Diseases Society, the world's largest organization dedicated to the treatment, control, and eradication of infectious diseases that affect children.
---
---
This book will be a vital tool for all clinicians in the front line when an ill child presents with an acute illness.
---
---
"The definitive work in genetic evaluation of newborns. I cannot recommend it strongly enough." -Judith G. Hall As demand continues to exceed availability when it comes to clinical geneticists, Genetic Consultations in the Newborn offers an essential new resource for practitioners everywhere: a streamlined diagnostic manual that connects subtle symptoms of newborn dysmorphology to their differential diagnosis.
---
---
Publisher's Note:
Products purchased from 3rd Party sellers are not guaranteed by the Publisher for quality, authenticity, or access to any online entitlements included with the product.
Clear, concise, and complete with more than 100 board-style review questions, Blueprints Pediatrics delivers a succinct, "need-to-know" review perfect for a pediatrics rotation and exams. This thoroughly revised, updated, full-color edition makes clerkship and exam preparation more approachable than ever. Engaging narratives guide students through each chapter accompanied by robust learning features, clinical vignettes, and UMSLE-style review questions with complete answers and rationales to reinforce key points.
---
---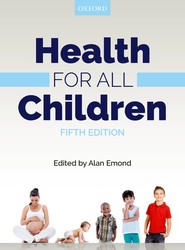 The new edition of Health for all Children, the leading authority in the field, has been fully revised and updated to incorporate the key updates and developments on how the health of children can best be protected and promoted, making it essential reading for anyone involved in the care and welfare of children.
---
---
Part of the Neurosurgery by Example series, this volume on pediatric neurosurgery presents exemplary cases in which renowned authors guide readers through the assessment and planning, decision making, surgical procedure, after care, and complication management of common and uncommon disorders. The cases provided are exemplary of more relevance to and higher general frequency in pediatrics, as well as of presentation and management that is notably distinct in pediatric compared to adult neurosurgery. Pediatric Neurosurgery is appropriate for neurosurgeons who wish to learn more about a subspecialty, and those preparing for the American Board of Neurological Surgery oral examination.
---
---
This pocket-sized book is designed to provide up-to-date information for the general paediatrican and paediatric nephrologist, including advice on care of emergencies, chronic disorders, and common as well as rare conditions. It is highly relevant for the day-to-day care of patients on the ward or in the outpatient clinic.
---
---
---
---
The Politics of Autism explores controversies in autism epidemiology, problems in effective autism education, motivators of the alternative medicine and anti-vaccine movement in autism, and argues for the re-examination of autism research priorities from basic science to clinical studies aimed at improving lives of individuals and their families living with autism. By exposing the sub rosa truths about autism that are often impolitic or seemingly too sensitive to discuss, each chapter focuses both on the controversies themselves, and how these controversies came to be. In addition, readers will find a chapter-by-chapter bibliography with URLs to many engaging references posted on the author's website. References include popular media/internet resources.
---
---