Error and Uncertainty in Diagnostic Radiology exposes the process of diagnostic radiology and how it can sometimes go tragically wrong. The occurrence of radiological error directly correlates with the underlying high level of uncertainty known to be present in the diagnostic process. As an expert in the field, Michael Bruno helps readers gain insight into the various types of radiologist error as well as practical strategies for error prevention.
---
---
---
The fourth edition of the Oxford Handbook of Acute Medicine has been revised throughout to include the most up-to-date guidelines and treatment management plans. With new figures and clinical tips, and a brand new chapter on the older patient, this edition remains the must-have resource for all those dealing with acute illness.
---
---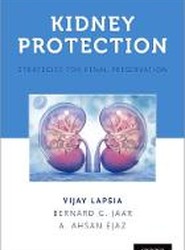 Kidney Protection is the first practical handbook on renal protection for the busy clinician caring for patients with kidney disease in the ICU, perioperative, or out-patient settings. Chapters review the basics of kidney disease, assessment, preventing renal injury and renal preservation in a concise and lucid format that emphasizes guidelines for clinical practice.
---
---
Emergency Medicine Board Review is a comprehensive guide for preparing for the American Board of Emergency Medicine (ABEM) certification or ConCert recertification exam, and for residents preparing for in-training examinations in Emergency Medicine. The text consists of over 900 multiple-choice questions, organized into 20 chapters covering topics such as gastrointestinal, cardiovascular, and nervous system emergencies, as well as various disorders. Questions are written in a case-based format that emulates the ABEM and ConCert exams, and are supplemented by numerous figures, tables, and boxes.
---
---
Containing over 550 Single Best Answer questions, the third edition of Oxford Assess and Progress:Clinical Medicine is an essential revision tool.
---
---
This great-value pack offers students a definitive resource on clinical medicine.
---
---
Neurotrauma: A Comprehensive Textbook on Traumatic Brain Injury and Spinal Cord Injury aims to bring together the latest clinical practice and research in the field of two forms of trauma to the central nervous system: namely traumatic brain injury (TBI) and spinal cord injury (SCI). This volume details the latest research and clinical practice in the treatment of neurotrauma, in a comprehensive but easy-to-follow format. Neurotrauma is a valuable resource for any clinician involved in caring for the TBI, clinical research professionals, researchers, medical and graduate students, and nurse specialists.
---
---