---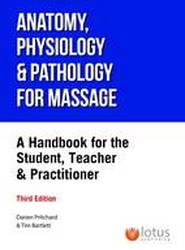 This fully updated third edition of the best-selling Anatomy, Physiology and Pathology for the Massage Therapist provides a solid base for the student and early practitioner to learn the physical make-up of the body, giving a broad introduction to the body's physical functioning.
---
---
---
Explains the mechanics of acupuncture point combinations for Chinese medicine students and practitioners. The book explains how each point works and how best to combine points for good clinical results. Case studies throughout demonstrate the application of theory to practice.
---
---
---
This volume provides a comprehensive overview on developmental origins of health and disease regarding various factors related to the origins of non-communicable diseases (NCDs) from early life. as well as environmental factors including air pollution and global climate change on the development and progress of NCDs.
---
---