The fourth edition of the Oxford Handbook of Acute Medicine has been revised throughout to include the most up-to-date guidelines and treatment management plans. With new figures and clinical tips, and a brand new chapter on the older patient, this edition remains the must-have resource for all those dealing with acute illness.
---
---
This great-value pack offers students a definitive resource on clinical medicine.
---
---
The Oxford Handbook of Clinical Medicine, a peerless classic in the field, returns for a tenth edition. Thoroughly updated in line with current guidelines, this pocket-friendly book continues to be a truly indispensable companion for the practice of modern medicine.
---
---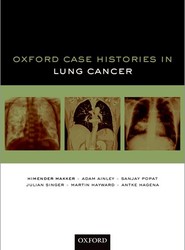 Oxford Case Histories in Lung Cancer provides a multi-disciplinary approach to the management of lung cancer, with a comprehensive collection of real-life clinical cases demonstrating the application of evidence-based recommended practice. It is the ideal day-to-day guide for all those who work with lung cancer patients.
---
---
Everything you ever needed to know about life on the wards that medical school didn't tell you. Includes practical advice coming direct from the authors' experience with topics from applying to the Foundation Programme to planning your career, and from interpreting results to performing practical procedures.
---
---
---
---