Management of Sepsis: the PIRO Approach
£72.00
(To see other currencies, click on price)
Paperback / softback
---
£72.00
(To see other currencies, click on price)
---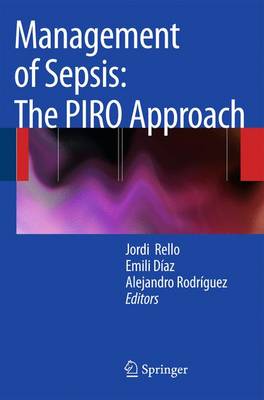 MORE ABOUT THIS BOOK
Main description:
Sepsis is a very important public health problem. It is widely acknowledged that the severe inflammatory response syndrome/severe sepsis paradigm fails to stratify sepsis patients adequately. This book reviews in detail how sepsis should be managed on the basis of a novel approach to staging. The PIRO (predisposing factors, infection, response, organ dysfunction) model was first proposed at the start of the decade on a theoretical basis and has now been translated into a practical approach for use at the bedside. It is loosely based on the TNM staging system for cancers, with points being allocated to each of the four aforementioned key characteristics of the septic process. The proposed PIRO framework facilitates evaluation of factors that are important in the pathogenesis of severe sepsis and in the development of treatment strategies. This book clearly explains the advantages of the PIRO approach in different settings and will be of value to all practitioners concerned with the management of sepsis.
Feature:
Documents the drawbacks of the traditional SIRS concept
Examines in detail how sepsis should be managed on the basis of the new PIRO approach to sepsis staging
Explains the advantages of the PIRO approach in a variety of settings
Written by leading experts
Contents:
PIRO: The Key to Success?.- Risk Stratification in Server Sepsis: Organ Failure scores or PIRO?.- Community-Acquired Pneumonia Management Based on the PIRO System. A New Therapeutic Paradigm.- Ventilator-Associated Pneumonia PIRO Score.- A PIRO-Based Approach for Severity Assessment in Community-Acquired Pneumonia.- Real-Time PCR in Microbiology: From Diagnosis to Characterization.- Influence of Serotype in Pneumococcal Disease: A New Challenge for Vaccination.- Acute Kidney Injury and Extracorporeal Blood Purification in Sepsis.- Immunoglobulin, Sepsis, and Pneumonia.- Coagulation Disorders in Sepsis.- Antibiotics in Severe Sepsis: Which Combinations Work?.
Related books
Publisher recommends
---
From the reviews:
"This brief monograph describes the PIRO staging system … in the evaluation of severe infection along with current management of infection. Topics related to evaluation and management in sepsis are provided. Senior trainees and practitioners in academic settings are an appropriate audience for this work … . Line drawings and color highlights reproduce with excellent quality and good use is made of graphs and tables. … This is a worthwhile introduction to some of the recent developments in scoring and management of sepsis." (David J. Dries, Doody's Review Service, October, 2009)