---
The Oxford Handbook of Psychotherapy Ethics explores a whole range of ethical issues in the heterogenous field of psychotherapy. It will be an essential book for psychotherapists in clinical practice and valuable for those professionals providing mental health services beyond psychology and medicine, including counsellors and social workers
---
---
Wisdom Mind is a scientifically tested mindfulness program for older adults - those who are cognitively healthy, as well as those who may be experiencing what is referred to as subjective cognitive decline. While mindfulness is already known to benefit a wide variety of individuals, the unique strengths of this program are the ways in which it is tailored specifically to older adults.
---
---
---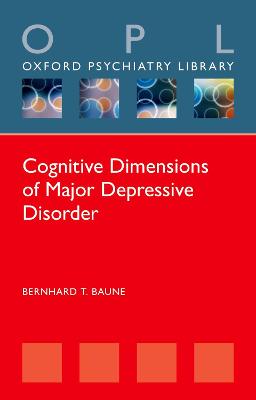 Part of the Oxford Psychiatry Library series, this handbook will provide clinicians with an overview of the clinical characteristics, assessment, and treatment of cognitive dimensions of MDD and offers extended and novel diagnostic and treatment approaches.
---
---
---
The field's most complete and authoritative reference, updated and expanded Developmental Psychopathology is the most complete and up to date reference in the field, with contributions by leading researchers and clinicians from a broad array of disciplines, specialties, and perspectives.
---
---
Updates clinical guidance and theory for Accelerated Experiential Dynamic Psychotherapy (AEDP), an approach that gives patients corrective emotional and relational experiences that mobilize changes in the brain. The authors demonstrate the power of relational work by sharing excerpts and analysis of clinical session transcripts.
---
---
---
---