Showing
10
of 5697 results for
The third edition of this well established textbook provides a readable, comprehensive and accessible account of the law governing health care in England and Wales. The narrative is clear and succinct with full references to legal sources to meet the needs of law students and practitioners. The text sets out the law on public health, the NHS, the health professionals, clinical negligence litigation, patients' rights, and research and health care ethics.
---
---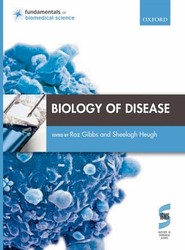 Biology of Disease addresses the pathophysiology of specific disease states and evaluates the multidisciplinary approach to disease diagnosis and management. Starting with an introduction to the basic concepts of health and disease, the book graduates to an in-depth discussion of disease states, while illustrating how theory is linked to practice.
---
---
Humans and other organisms harbour microbiomes, communities of microorganisms which are mostly beneficial but can sometimes cause disease. This book explains how and why our health and wellbeing depend on our resident microbiomes, providing readers with the knowledge to judge claims about microbiome-based applications.
---
---
Viruses are everywhere, and as the COVID-19 pandemic has shown, cannot be ignored. From their discovery to the unravelling of their intricate structures, this Very Short Introduction provides a rounded and concise account of the nature of viruses, how they attack their hosts, and the efforts to control them.
---
---
Sick Note is a history of how the British state asked, 'who is really sick?' Tracing medical certification for absence from work from 1948 to 2010, Gareth Millward shows how the sick note has survived in practice and in the popular imagination - just like the welfare state itself.
---
---
This is the definitive reference on social psychiatry for every mental health clinician, providing global coverage on this expanding area of psychiatry.
---
---
---
---
Written in a lively and compelling style, this book explains the hidden relationship between Judaism and the world of infectious disease. It combines history, medicine, science, and religion and gives us a new appreciation of how Jews and Judaism have been deeply shaped by plagues and pandemics, from ancient times up to the present.
---
---
Ketogenic therapies have treated epilepsy for 100 years. Now, broader clinical applications of metabolic therapies are coming to the fore and mechanistic understanding has increased dramatically. This 100th anniversary edition features top scientists and new insights, paralleled by increased appreciation for metabolic health among professionals and the public.
---
---