Showing
10
of 4758 results for
The third edition of this well established textbook provides a readable, comprehensive and accessible account of the law governing health care in England and Wales. The narrative is clear and succinct with full references to legal sources to meet the needs of law students and practitioners. The text sets out the law on public health, the NHS, the health professionals, clinical negligence litigation, patients' rights, and research and health care ethics.
---
---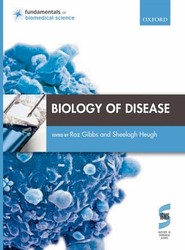 Biology of Disease addresses the pathophysiology of specific disease states and evaluates the multidisciplinary approach to disease diagnosis and management. Starting with an introduction to the basic concepts of health and disease, the book graduates to an in-depth discussion of disease states, while illustrating how theory is linked to practice.
---
---
Plum and Posner's Diagnosis and Treatment of Stupor and Coma, 5th edition, is a major update of the classic work on diagnosing the cause of coma, with the addition of completely new sections on treatment of comatose patients, by Dr. Jan Claassen, the Director of the Neuro-ICU at Columbia New York Presbyterian Hospital.
---
---
Chest Imaging presents a comprehensive review of thoracic pathologies commonly encountered by practicing radiologists and residents in training.
---
---
A STIRRING EXAMINATION OF A LOOMING CRISIS Virtually everyone has taken antibiotics. They can be lifesavers — or they can be useless. But what are they? How are they used? And what happens as the effectiveness of antibiotics begins to decline? Antibiotics: What Everyone Needs to Know® examines the personal and societal implications of our planet's most important — and arguably most overused — medications. In a question-and-answer format, it unpacks the most complicated aspects of this issue, including what the future holds as antibiotics lose their might.
---
---
In WELL, physician Sandro Galea examines what Americans miss when they fixate on healthcare: health. A deeply affecting work that is at once rigorous and person, Well examines the subtle and not-so-subtle factors that determine who gets to be healthy in America. Sandro Galea argues that the country's failing health is a product of the society and culture Americans have built for ourselves — not just in lifestyle, but in the separations entrenched across the spectrum of American experience.
---
---
Out in Time explores the life experiences of three generations of gay men — the Stonewall, AIDS, and Queer generations — arguing that while there are generational differences in the lived experiences of young gay men, and each one confronts its own unique historical events, realities, and socio-political conditions, there are consistencies across time that define and unify the identities of gay men.
---
---
AN INNOVATIVE AND ESSENTIAL NEW TOOL IN FIGHTING HEALTHCARE-ASSOCIATED INFECTIONS The Handbook of Pediatric Infection Prevention and Control is the most comprehensive, practical resource available on infection prevention across the spectrum of paediatric healthcare settings, including acute care hospitals, ambulatory practices, and long-term care facilities. It addresses the nuances and challenges specific to paediatric infection prevention, providing expert guidance on topics where evidence-based guidelines don't currently exist. *** The Handbook of Pediatric Infection Prevention and Control is a publication of the Paediatric Infectious Diseases Society, the world's largest organisation dedicated to the treatment, control, and eradication of infectious diseases that affect children.
---
---
Acute Pain Medicine is the first comprehensive, case-based text of its kind that explores the essential topics of acute pain medicine, including interventional, pharmacologic, and diagnostic considerations.
---
---
This new fourth edition of the Oxford Handbook of Psychiatry is the essential, evidence-based companion to all aspects of psychiatry, from diagnosis and conducting a clinical interview to management by subspecialty. Fully updated to reflect changes to the legislature and classification of psychiatric disorders, and with coverage of the anticipated ICD-11 coding, this Handbook provides the latest advances in both clinical practice and management today.
---
---