Showing
10
of 2840 results for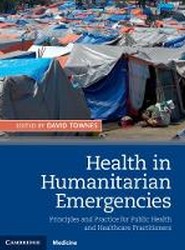 The fields of Global Health and Global Emergency Response have attracted increased interest and study. There has been tremendous growth in the educational opportunities around humanitarian emergencies; however, educational resources have not yet followed the same growth. This book corrects this trend, offering a comprehensive single resource dedicated to health in humanitarian emergencies.
---
---
A practical guide to the management of uterine fibroids, featuring overviews of laparoscopic, hysteroscopic, and robotic surgical set-ups. Offering less invasive treatments such as uterine artery embolisation, and the debate around morcellation, and an online video library of procedures explained in the book, to enhance learning.
---
---
A selection of clinically useful case studies that cover the spectrum of cognitive decline in aging, from mild impairment to dementia, and the multiple causes and treatments. Updated to include new biomarker imaging technology and diagnostic criteria, this book is for trainees and clinicians in neurology, psychiatry and neuropsychology.
---
---
This unique guide covers all facets of geriatric forensic pathology. Packed with color illustrations and case examples, chapters cover both trauma and natural causes of death, as well as challenging topics such as abuse, dementias and euthanasia. It is invaluable for pathologists, medical practitioners and lawyers.
---
---
A summary of state-of-the-art research on how the river environment impacts biodiversity, species invasions, population dynamics, and the spread of waterborne disease. Blending laboratory, field and theoretical studies, it is the go-to reference for graduate students and researchers in river ecology, hydrology, and epidemiology.
---
---
A concise review of the essentials of anesthesia and critical care for anesthetists, nurses and emergency physicians preparing to treat survivors of major disasters. Experienced responders provide practical advice on topics including trauma surgery; mass casualties; chemical, biological and radiological exposure; and emergency communications.
---
---
A resource for scholars and students of international public health, this volume analyses the global system for sharing pathogens for research into diagnostics, medicines, and vaccines. Authors trace the problems posed by negotiating for access to biological resources and offer solutions to ensure that politics do not threaten biomedical advances.
---
---
The theory of structured dependence has many real-life applications in areas such as finance, insurance, seismology, neuroscience, and genetics. The first book to be devoted to this research area, this is a useful tool for researchers and practitioners in the field, as well as graduate students.
---
---
This book summarises non-neoplastic gastrointestinal (GI) pathology and provides a practical approach to interpreting biopsies. Written by a team of experts in the field, it is a concise and readable book for histopathologists examining gut tissue samples under a microscope. It includes numerous illustrations, fact sheets and practice points.
---
---