The incidence and prevalence of post-traumatic arthritis (PTA) is increasing globally due to longevity of life and increased activity and injuries. Compared to the non-traumatic etiology of arthritis, post-traumatic arthritis differs in presentation, severity and complexity of management.
---
---
---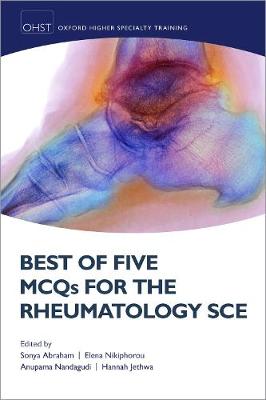 Best of Five MCQs for the Rheumatology SCE is a dedicated revision guide designed specifically for this high-stakes exam. It contains 300 best of five questions with explanatory answers, each accurately reflecting the layout of questions in the exam.
---
---
This book is an informative guide for both the patient and therapist, and provides a series of exercises that target the most important muscles for those with spastic paresis.
---
---
This book focuses on both the management of the pain as well as the pain patient and is formatted as a practical, evidence-based guide to managing chronic pain conditions.
---
---
---
Hundreds of recipes and foods to treat arthritis the natural way.
---
---
Ultrasound Scoring of Joint Synovitis is based off the work of three authors who tackled the limitations of contemporary inflammation scoring systems, and developed an ultrasound-based inflammation scoring system which can be applied with consistency and reproducibility.
---
---
This book focuses on conveying autoimmune disease expertise to gynecologists and other clinicians, allowing them to approach the treatment of each disease in a pragmatic manner.
---
---