Our natural tapestry, the skin, can be torn apart by disease, and we can suffer from horrendous physical and emotional trauma.
---
---
---
---
It then provides a detailed description of the anatomy, injection depth and injection amount relevant to each regional indication, easy to follow for even a novice injector, based on a rich assortment of anatomical illustrations, ultrasound imaging and cadaveric photos provided to assist their understanding.
---
---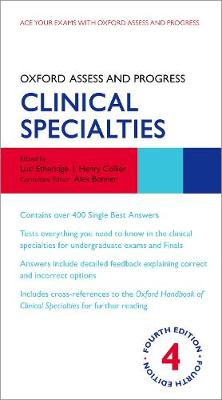 Featuring 400 Single Best Answer questions on the core clinical specialties, the fourth edition of Oxford Assess and Progress: Clinical Specialties is a definitive and unique revision tool.
---
---
This great-value pack offers students a definitive resource on the clinical specialties.
---
---
It expresses the critical public health concern of antimicrobial resistance and shows how microorganisms are developing the ability to halt the progress of antimicrobials like antibiotics, antivirals, and antifungals. Chapters are grouped together in five sections for ease of use.
---
---
This book provides clinicians, clinicians-in-training and researchers with a unique rapid-access educational resource on the spectrum of issues at the intersection of skin and malignancy.
---
---
This book focuses on neglected skin diseases and conditions in resource-poor countries through the lens of livelihoods.
---
---
This book is a comprehensive, practical guide to the latest developments in the understanding and management of atopic dermatitis.
---
---