Recent Advances in Dermatology: 1 is the ideal resource for keeping abreast of new developments in this constantly changing field. Written by expert authors and featuring topics such as oral lichen planus, allergic contact dermatitis to cosmetics and toiletries, and benign and malignant penile lesions, each chapter highlights the latest developments of relevance to clinical practice.
---
---
Everything you ever needed to know about life on the wards that medical school didn't tell you. Includes practical advice coming direct from the authors' experience with topics from applying to the Foundation Programme to planning your career, and from interpreting results to performing practical procedures.
---
---
Hardback
£139.50
£155.00
(
Save 10%
)
---
Paperback / softback
£106.19
£117.99
(
Save 10%
)
---
This great-value pack offers students a definitive resource on the clinical specialties.
---
---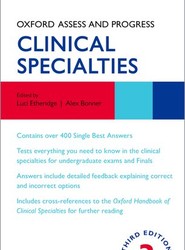 Containing over 400 Single Best Answer questions on the core clinical specialties, the third edition of Oxford Assess and Progress:Clinical Specialties is a definitive and unique revision tool.
---
---