---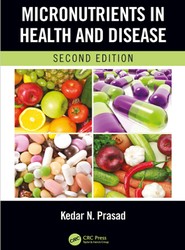 Growing sentiments against using micronutrient supplements for improving health and preventing disease have created uncertainty in the minds of many health professionals. Following its predecessor, this new edition supports the use of multiple micronutrients combined with proper diet to prove successful in the prevention and management of chronic diseases.
---
---
Aging, Nutrition and Taste: Nutrition, Food Science and Culinary Perspectives for Aging Tastefully provides research, facts, theories, practical advice and recipes with full colour photographs to feed the rapidly growing ageing population healthfully. This book takes an integrated approach, utilising nutrition, food science and the culinary arts.
---
---
Cleveland Children's Clinic developed this handbook for conducting a nutrition-focused physical exam (NFPE) of pediatric patients. Fully illustrated, this handbook assists bedside clinicians in nutrition assessment, helping discern the presence and degree of malnutrition. Most healthcare disciplines perform a physical exam and a NFPE should be part of the nutrition clinician's skill set.
---
---
ASPEN Enteral Nutrition Handbook, Second Edition is a comprehensive resource on how to safely, effectively, and confidently care for patients receiving tube feeding. The clinician will find everything needed for positive patient outcomes, including step-by-step techniques based on a wide variety of practical tools to save time and boost quality of care.
---
---
This second volume in the Food Policy series focuses on critical nutrition and dietetics studies, offering an innovative and interdisciplinary exploration of the complexities of the food supply and the actors in it through a new critical lens. The volume provides an overview of the growth of critical nutrition and dietetics since its inception in 2009, as well as commentary on its continuing relevance and its applicability in the fields of dietetic education, research, and practice.
---
---
Advances in Food and Nutrition Research, Volume 87 provides updated information on nutrients in foods and how to avoid deficiency, especially the essential nutrients that should be present in the diet to reduce disease risk and optimise health. The book provides the latest advances on the identification and characterisation of emerging bioactive compounds with putative health benefits.
---
---
It seems that practically every day there is news about some new super-nutrient, super diet, or super food that promises to help us to be healthier, smarter, happier, fight disease, lose weight, or live longer. Some of this information propels temporary food or diet fads, some of it is subsequently discredited, and some becomes staid wisdom of healthy eating. Food and Nutrition: What Everyone Needs to Know® sorts through this information and looks at food systems globally and historically, providing an overview of the relationship between humans, the environment, and food.
---
---