Transanal Stapling Techniques for Anorectal Prolapse
£135.00
(To see other currencies, click on price)
Paperback / softback
---
£135.00
(To see other currencies, click on price)
---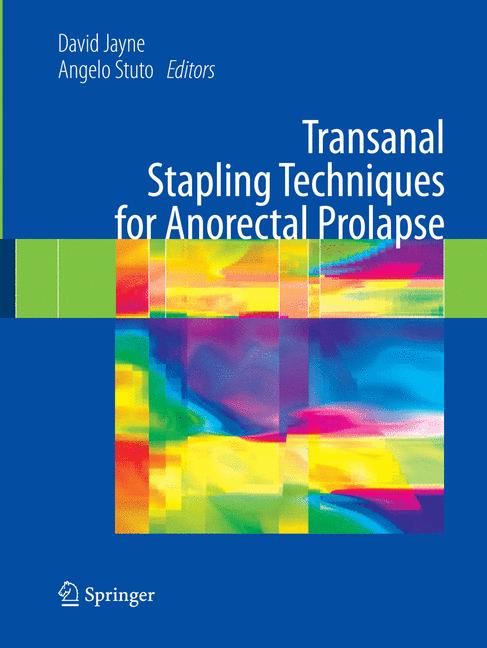 MORE ABOUT THIS BOOK
Main description:
It has never been easy to introduce new concepts and therapeutic in-terventions into surgical practice. When attempting to do so, one is faced with the interagency of traditional dogma, which still in this era of evidence-based medicine tends to dominate the surgical thought pr- ess. This is particularly so in the area of coloproctology, where prejudice and personal opinion often influence objective analysis whenever tradition is challenged. A large body of literature on anorectal prolapse has accumulated over the years; although much is based on personal viewpoint rather than scientific evidence, it has nevertheless been passed down through the generations as ac-cepted wisdom and practice. As a consequence, it is a challenge to change the mindset of a generation of surgeons and to introduce new concepts and novel techniques which at first might appear to be a radical departure from conventional teaching. It is obviously not possible to present the basis for the develop-ment of transanal stapling techniques for anorectal prolapse in this Foreword; this is dealt with in detail elsewhere in this book. The in-terested reader will have the opportunity to share in the new and emerging concepts surrounding anorectal prolapse and to deepen their understanding of the pat- physiology and basis for surgical correction. Although hemorrhoidal disease and external rectal prolapse have been known about for centuries, the understanding of internal rectal prolapse (intussusception) and rectocele has only really advanced with the emergence of radiological imaging tech-niques, such as defecography.
Back cover:
Both informative and easy to read Transanal stapling techniques for anorectal prolapse provides a comprehensive review of the current knowledge regarding the modern treatment of anorectal prolapse, with emphasis on stapled haemorrhoidopexy for prolapsing haemorrhoids, and the STARR procedure for obstructed defaecation syndrome.
The first transanal stapling technique for the treatment of anorectal prolapse was presented in abstract form in 1998 by Dr A Longo. This described a novel technique for the surgical correction of prolapsing hemorrhoids. The technique has subsequently enjoyed tremendous success due to its benefits in reducing postoperative pain, shortening hospital stay, and achieving an earlier return to normal activities. It is this success that led to the development of the stapled transanal rectal resection (STARR) procedure.
The book provides practical guidance in the application of the techniques with criteria for patient selection, tips and tricks for obtaining the best outcomes, and how to avoid and deal with potential complications. The views of the authors are supported by an overview of the evidence base as documented in the medical literature. A further section deals with unresolved issues of controversy and puts forward areas for ongoing research and development.
Transanal stapling techniques for anorectal prolapse is aimed at higher surgical trainees who are learning for the first time the complexities of proctological practice, as well as established general surgeons and coloproctologists who encounter the conditions on a frequent basis. The complexities of the pelvic floor are increasingly recognised as demanding a combined approach with gynecologists and urologists, and the book will also appeal to practitioners in these specialities.
Contents:
Preface.- Introduction.- Historical Background.- Anatomy and physiology of anorectal prolapse.- Diagnosis of Haemorrhoids & ODS.- Evaluation of Patients with Symptomatic Haemorrhoids and Obstructed Defaecation.- Patient Selection for Stapled Haemorrhoidopexy & STARR.- Stapled haemorrhoidopexy – the technique.- Stapled Transanal Rectal Resection (STARR Procedure).- The evidence for Stapled Haemorrhoidopexy & STARR.- Areas of controversy and future research
Related books
Publisher recommends
---
From the reviews:
"This is an excellent description of the historical background and a comparison of two similar techniques for two different diagnoses, internal hemorrhoids and obstructive defecation … . the audience is … colorectal surgeons and surgeons who do a larger amount of anorectal or pelvic floor work. … It is very clear and concise and the diagrams/photos are particularly good. … a great addition to the subspecialist's library and will probably become a classic since it covers the material so precisely and completely." (Shauna Lorenzo-Rivero, Doody's Review Service, April, 2009)