A perfect reference source for the practising plastic surgeon; the Oxford Textbook of Plastic and Reconstructive Surgery is a comprehensive reference text detailing all aspects of plastic surgery pertinent to a surgeon in training for specialisation while also suitable for use in preparation for the Intercollegiate Examination.
---
---
---
---
---
---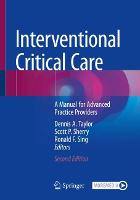 The goal of the first edition of Interventional Critical Care: A Manual for Advanced Care Practitioners was to fill a knowledge gap of the advanced practice provider (APP) specifically regarding the skills and understanding of critical care procedures in response to the rapidly expanding participation of APPs in critical care.
---
---
The book provides A-Z information of surgical disorders in a concise and engaging format and serves as a complete reference for surgical trainees to prepare for the annual promotion and final clinical board exam specially the oral exam.
---
---
This comprehensive book presents the latest evidence-based data on pancreatobiliary malignancies, including the epidemiology, examination, treatment and endoscopic management.
---
---
---
This book discusses all thoracic diseases of surgical interest, from thorax malformations to airways disorders. It is divided into six main sections;
---
---