Retinal and Choroidal Angiogenesis
£130.50
(To see other currencies, click on price)
Paperback / softback
---
£130.50
(To see other currencies, click on price)
---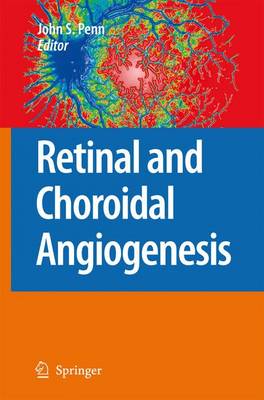 MORE ABOUT THIS BOOK
Main description:
Retinal and choroidal angiogenesis are the leading causes of irreversible vision loss in developed countries. For this reason, ocular angiogenesis is an intensely studied process, and the field is advancing at an astounding pace. It has become increasingly difficult to manage the vast amount of information generated by the growing group of interested investigators, thus a resource is needed that distills and summarizes our progress to date.
Retinal and Choroidal Angiogenesis provides a comprehensive, in-depth review of our current understanding of the growth of blood vessels within the eye. Renowned academic scientists, pharmaceutical scientists, and clinician-scientists have contributed chapters identifying the cellular and molecular mechanisms of retinal and choroidal angiogenesis; defining animal models of these pathologic processes; or describing the application of current tools, techniques, and theories to disease pathogenesis in humans suffering from conditions characterized by ocular angiogenesis. Additionally, novel therapeutic strategies for the treatment of ocular angiogenesis are discussed, as are the unique challenges presented by delivery of drugs to the eye.
Retinal and Choroidal Angiogenesis emphasizes basic principles rather than specific experimental results, although recently acquired data is frequently cited to illustrate points of broader theoretical significance. The result is a reference work appealing to ophthalmologists interested in clinical applications, as well as to basic scientists interested in the cellular and molecular mechanisms of angiogenesis, both in the context of ocular and non-ocular conditions.
Contents:
I. Angiogenesis Study Models
1. Cellular and Molecular Mechanisms of Retinal Angiogenesis by M. A. Behzadian, M. Bartoli, A. B. El-Remessy, M. Al-Shabrawey, D. H. Platt, G. I. Liou, R. W. Caldwell, and R. B. Caldwell 2. Animal Models of Choroidal Neovascularization by M. L. Clark, J. A. Fowler, and J. S. Penn 3. Rodent Models of Oxygen-Induced Retinopathy by S. E. Yanni, G. W. McCollum, and J. S. Penn 4. Animal Models of Diabetic Retinopathy by T. S. Kern 5. Neovascularization in Models of Branch Retinal Vein Occlusion by R. P. Danis and D. P. Bingaman II. Molecular Characterization
6. Vasculogenesis and Angiogenesis in Formation of the Human Retinal Vasculature by T. Chan-Ling 7. IGF-1 and Retinopathy by L. E. H. Smith 8. Hypoxia and Retinal Neovascularization by B. A. Berkowitz 9. Hypoxia Inducible Factor-1 and VEGF Induction by A. Madan 10. The Role of Protein Kinase C in Diabetic Retinal Vascular Abnormalities by J. K. Sun and G. L. King 11. Eph Receptor Tyrosine Kinases: Modulators of Angiogenesis by J. Chen, D. Brantley-Siders, and J. S. Penn 12. Adenosine in Retinal Vasculogenesis and Angiogenesis in Oxygen-Induced Retinopathy by G. A. Lutty and D. S. McLeod 13. The Regulation of Retinal Angiogenesis by Cyclooxygenase and the Prostanoids by G. W. McCollum and J. S. Penn 14. Extracellular Proteinases in Ocular Angiogenesis by A. Das and P. G. McGuire 15. Oxygen-Independent Angiogenic Stimuli by J. M. Holmes, D. A. Leske, and W. L. Lanier 16. Growth Factor Synergy in Angiogenesis by A. Ljubimov 17. Pigment Epithelium-Derived Factor and Angiogenesis by J. Amaral and S. P. Becerra 18. Circulating Endothelial Progenitor Cells and Adult Vasculogenesis by S. Caballero, N. Sengupta, L. C. Shaw, and M. B. Grant III. Applications to Clinical Conditions 19. Retinopathy of Prematurity by D. L. Phelps 20. Angiogenesis in Sickle Cell Retinopathy by G. A. Lutty and D. S. McLeod 21. Diabetic Retinopathy by R. N. Frank 22. Systems for Drug Delivery to the Posterior Segment of the Eye by A. L. Weiner and D. A. Marsh 23. Novel Therapeutic Strategies for Posterior Segment Neovascularization by D. P. Bingaman, X. Gu, A. M. Timmers, and A. Davis 24. Choroidal Neovascularization in Age-Related Macular Degeneration--From Mice to Man by L. Berglin
Related books
Publisher recommends