DNA Methylation, Epigenetics and Metastasis
£206.50
(To see other currencies, click on price)
Paperback / softback
---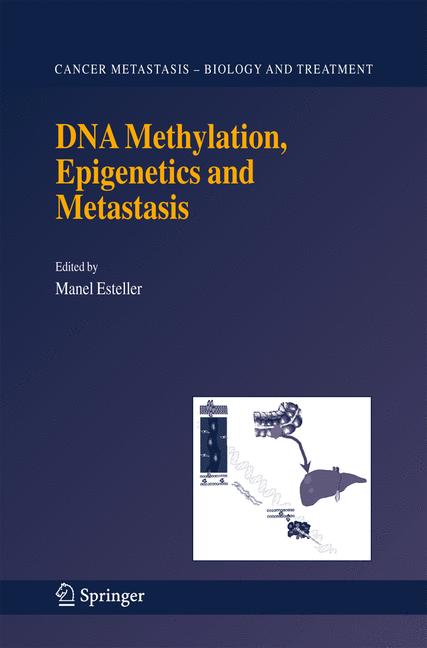 MORE ABOUT THIS BOOK
Feature:
First description of the epigenetic events involved in metastasis
Best experts in the field of DNA methylation in cancer
Right combination of theory and applications
Most updated bibliography
Most novel description of drugs targeting epigenetics in metastasis
Contents:
Chapter 1: How CpG Island Hypermethylation Leads to Cancer Dissemination: The Sounds of Silence for Tumor and Metastasis Suppressor Genes. Manel Esteller Chapter 2: A Mouse Skin Multistage Carcinogenesis Model that Unmasks Epigenetic Lesions Responsible for Metastasis. Mario F. Fraga & Manel Esteller Chapter 3: CpG Island Hypermethylation and Lung Cancer Invasion and Metastasis. Ubaradka G. Sathyanarayana & Adi F. Gazdar Chapter 4: CpG Island Hypermethylation Changes During Prostate Cancer Progression and Metastasis. Srinivasan Yegnasubramanian & William G. Nelson Chapter 5: CpG Island Hypermethylation in Breast Cancer Progression and Metastasis. Paola Parrella Chapter 6: Epigenettic Dysregulation of Maspin (SerpinB5) in Cancer Invasion and Metastasis. Bernard W. Futscher & Frederick E. Domann Chapter 7: Epigenetic Regulation of the E-cadherin Cell-Cell Adhesion Gene. Hector Peinado & Amparo Cano Chapter 8: Epigenetic Disruption of the SLIT-ROBO Interactions in Human Cancer. Ashraf Dallol, Rachel E. Dickinson & Farida Latif Chapter 9: Molecular Mechanisms of the Metastasis-Associated Gene Family of Coregulators: Role in Cancer and Invasion. Seetharaman Balasenthil & Rakesh Kumar Chapter 10: The Molecular Mechanisms for BRMS1 Action in Cancer Metastasis. Rajeev S. Samant & Lalita A. Shevde Chapter 11: Mechanisms of DNA Demethylating Drugs Against Cancer Progression. Zunyan Dai, Kavitha Kosuri & Gregory A. Otterson Chapter 12: Histone Deacetylase Inhibitors: Novel Targeted Anti-Cancer Agents. Paul Marks & William Kevin Kelly.
Related books
From the same series