Current Topics in Clinical Radiobiology of Tumors
by
H.-P. Heilmann
,
L.W. Brady
,
H. Jung
,
K.K. Ang
,
Hans-Peter Beck-Bornholdt
,
M. Baumann
,
S.M. Bentzen
,
I. Brammer
,
W. Budach
,
E. Dikomey
,
Z. Fuks
,
K.R. Trott
,
M.R. Horsman
,
H. Johns
,
M.C. Joiner
,
S.A. Leibel
,
B. Marples
,
L.J. Peters
,
A. Taghian
,
H.D. Thames
,
G.D. Wilson
,
H.R. Withers
and
Glenn Wilson
£94.50
(To see other currencies, click on price)
Paperback / softback
---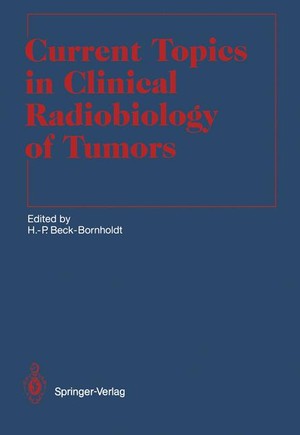 MORE ABOUT THIS BOOK
Main description:
The impact of basic science radiobiological research is now being recognized of significant importance in clinical radiation oncology. Observations made in the laboratory using animals as'well as tissue culture have led to a better biologic understanding of techniques for altered fractionation, techniques for measuring tumor cell proliferation, the possi­ bilities and limitations of methods for evaluation of nonrandomized clinical studies in deriving time dose relationships for human tumors as well as a better understanding of repair kinetics in mammalian cells, fractionation sensitivity and the major impact oftechnologies to improve local/regional control with the subsequent impact on survival. These findings have led to changes in treatment schedules and have led to further close cooperation among the radiation oncologists and radiation biologists. Well support research efforts in radiation biology have a major and significant impact on the clinical care of the cancer patient. Studies that originated in the laboratory are now finding their way into clinical practice resulting in better local and regional control and improved number of patients surviving without disease.
Contents:
1 Accelerated Fractionation.- 2 Time-Dose Relationships for Human Tumors: Estimation from Nonrandomized Studies.- 3 Limitations of the Bromodeoxyuridine Technique for Measurement of Tumour Proliferation.- 4 Hyperfractionation.- 5 The Limitation of the Linear-Quadratic Model at Low Doses per Fraction.- 6 The influence of the Size of Dose on the Repair Kinetics of X-ray-Induced DNA Strand Breaks Studied in CHO Cells.- 7 The Fractionation Sensitivity of Malignant Melanomas.- 8 Radiosensitivity of Tumor Cells: The Predictive Value of SF2.- 9 Hypoxia in Tumours: Its Relevance, Identification, and Modification.- 10 The Impact of Local Tumor Control on the Outcome in Human Cancer.- 11 Cell Loss in Irradiated Tumours.- List of Contributors.
Related books
From the same series