This is a new edition of a well-established textbook which demonstrates the theory and practice of one of the most popular models used in both university and clinical practice settings. Fully updated throughout, Karen Holland, Jane Jenkins and their colleagues explain how the Roper-Logan-Tierney Model can help today's student learn how to care for patients in a variety of health care contexts and use it as a framework for their nursing practice.
---
---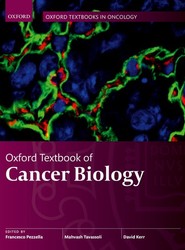 The Oxford Textbook of Cancer Biology brings together the multifaceted branches of the study of cancer biology into one coherent volume, providing a comprehensive and up-to-date account of this complex and rapidly evolving field.
---
---
The only text to contain a broad range of validated instruments to measure caring. This text is the only comprehensive and accessible collection of validated and reliable instruments for care measurement in clinical and educational nursing and health professions research. These measurements address quality of care; patient, client, and nurse perceptions of caring; and caring behaviors, abilities, and efficacy. The third edition is updated throughout and includes a comprehensive literature review of the research and measurement of caring.
---
---
Compassion Fatigue and Burnout in Nursing is for all nurses, but especially those who suffer from one of more of the following issues: job dissatisfaction, compassion fatigue, moral distress, or burnout. Many nurses who choose to go back to school may suffer from some degree of compassion fatigue/burnout, and not even know it.
---
---
Cleveland Children's Clinic developed this handbook for conducting a nutrition-focused physical exam (NFPE) of pediatric patients. Fully illustrated, this handbook assists bedside clinicians in nutrition assessment, helping discern the presence and degree of malnutrition. Most healthcare disciplines perform a physical exam and a NFPE should be part of the nutrition clinician's skill set.
---
---
ASPEN Enteral Nutrition Handbook, Second Edition is a comprehensive resource on how to safely, effectively, and confidently care for patients receiving tube feeding. The clinician will find everything needed for positive patient outcomes, including step-by-step techniques based on a wide variety of practical tools to save time and boost quality of care.
---
---
Learn to accurately diagnose the majority of patients seen in today's primary care settings! Advanced Health Assessment and Clinical Diagnosis in Primary Care, 6th Edition goes beyond basic history and physical examination skills to help you learn the diagnostic reasoning process.
---
---