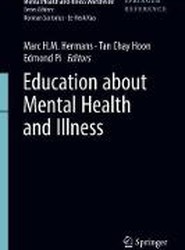 This book highlights the best educational practices for the professionals dealing with mental health and illness. While attempting an overall review of the current state-of-the-art in psychiatry education, the book focuses on recent developments and controversies in undergraduate and postgraduate psychiatric education around the globe.
---
---
Unlike its cousin, bipolar I disorder, which has been extensively studied and depicted in popular literature and on screen, bipolar II disorder is poorly understood, underdiagnosed, and insufficiently treated. Bipolar II Disorder: Recognition, Understanding, and Treatment is the only text on the market that examines every aspect of the disorder in an up-to-date, rigorous, and clinically oriented manner.
---
---
One of the paradoxes about psychiatry is that we have never known more about and better treated mental disorders, yet there exists so much unease about the practice of mental healthcare. Patients feel still stigmatized, psychiatrists are struggling with their roles in a rapidly changing system of healthcare, there is lack of consensus about what mental disorders are and what the focus of psychiatry should be.
---
---
The American Psychiatric Association Publishing Textbook of Psychiatry, first published more than 30 years ago, is a landmark text with a legacy of sound scholarship, expert knowledge, and effective pedagogy. Thoroughly revised and featuring new authors and content, the seventh edition raises the bar, adding age-related, cultural, societal, and population considerations in the practice of psychiatry to the authoritative text that generations of students, residents, and clinicians have heretofore relied upon.
---
---
This new fourth edition of the Oxford Handbook of Psychiatry is the essential, evidence-based companion to all aspects of psychiatry, from diagnosis and conducting a clinical interview to management by subspecialty. Fully updated to reflect changes to the legislature and classification of psychiatric disorders, and with coverage of the anticipated ICD-11 coding, this Handbook provides the latest advances in both clinical practice and management today.
---
---
Practitioners encounter patients with borderline personality disorder (BPD) with surprising frequency; indeed, 1 in 10 emergency room visits and 1 in 20 primary care appointments are estimated to involve people with BPD. Applications of Good Psychiatric Management for Borderline Personality Disorder: A Practical Guide was written not for the psychiatrist engaged in lengthy and complex psychotherapy with these patients but for the generalist who needs the basic skills to deliver good care to this sizeable patient population in need of help.
---
---
Written by two renowned leaders in the field, the much-anticipated fifth edition ofClinical Handbook of Psychiatry and the Lawoffers mental health professionals authoritative guidance on how today's law affects clinical practice. Each chapter in this award-winning reference presents case examples of legal issues often seen in day-to-day practice; clearly explains the governing legal rules, their rationale, and their clinical impact; and offers concrete action guides to navigating clinicolegal dilemmas.
---
---
Psychopathology lies at the centre of effective psychiatric practice and mental health care, and Fish's Clinical Psychopathology has shaped the training and clinical practice of psychiatrists for over fifty years. The fourth edition of this modern classic presents the clinical descriptions and psychopathological insights of Fish's to a new generation of students and practitioners.
---
---