Showing
10
of 2998 results for
Bariatric or weight loss surgery is the reduction of the size of the stomach with a gastric band or through removal of a portion of the stomach, or by resecting and re-routing the small intestine to a small stomach pouch. Metabolic surgery involves weight loss treatments and procedures to treat metabolic diseases, especially, Type 2 diabetes. This book is a guide to techniques in bariatric and metabolic surgery.
---
---
Eureka – an innovative series for students that fully integrates basic science, clinical medicine and surgery. With its engaging and authoritative text, featuring insightful clinical cases, graphic narratives, SBAs and a wealth of other learning tools, Eureka has everything students need to succeed in medicine and pass their exams.
---
---
Comprehensive guide to breast imaging presented as a series of cases and following a unique radiology-pathology correlation approach. Covers all imaging techniques and types of breast cancer. Recognised, US-based author team. 
---
---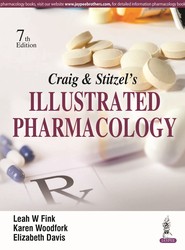 The seventh edition of this textbook has been fully revised and to provide students with the most recent knowledge and advances in the field of pharmacology. Includes case studies and multiple choice questions and answers. Previous edition published in 2003.  
---
---
This third edition presents 151 clinical case studies discussing and illustrating the diagnosis and management of different skin diseases and disorders. The book has been fully revised to incorporate the latest advances in the field including the rise in some superficial fungal diseases that have become increasingly resistant to treatment. Previous edition (9789351521167) published in 2014.
---
---
This book is a comprehensive guide to the use of lasers and other technologies in dermatologic and aesthetic practice. Divided into three key sections, the text begins with discussion on the use of lasers for different conditions, followed by clinical disorders and therapeutic indications, and then practical aspects such as setting up a laser centre and medicolegal aspects, and complications and their management.
---
---
Fully revised, new edition presenting latest advances in spinal surgery, covering techniques for each section of the spine. Authored by internationally recognised, US-based experts in the field. Previous ediiton (9789350903261) published in 2013.
---
---
Ear, nose & throat disorders account for a high proportion of the problems that students and junior doctors see during GP, A&E, paediatric & surgical rotations, but they receive little formal ENT training. Logical, building-block approach to content: initial chapter on relevant anatomy and physiology, followed by focus on ENT examination. Subsequent chapters describe specific disorders. Fully-updated second edition contains brand new diagnostic algorithms for effective decision making, expanded rhinology chapter and full-colour illustrations.
---
---
FRCS (Oral & Maxillofacial Surgery) Part 2: 100 Clinical Cases focuses on the clinical component of the exam and is structured according the FRCS OMFS syllabus. Each chapter starts with cases devoted to examination of the patient, history taking and investigations. Subsequent cases feature 'short case' clinical scenarios commonly encountered in the exam. Where relevant to exam practice, a 'long case' is included at the end of each chapter. The 'short cases' feature mock questions, while the 'long cases' also include an examiner's mark sheet listing the answers and actions candidates must perform to achieve full marks.
---
---
Melanocytic Proliferations: A Case-Based Approach to Melanoma Diagnosis provides a practical, case-based approach to the diagnosis and differential diagnosis of this challenging area of dermatopathology. There are numerous atlases and encyclopaedic references available that cover this disease, but Melanocytic Proliferations: A Case-Based Approach to Melanoma offers a unique, case-based approach to the diagnosis of melanoma. Using clinical scenarios to guide the reader through the differential diagnosis and highly structured text that explains the requisite diagnostic tests and hot to interpret the results they provide, the book explains how to discriminate between similar-looking presentations and avoid diagnostic pitfalls.
---
---