Showing
10
of 2787 results for
Fully revised new edition of comprehensive guide to liver transplantation. Highly illustrated with surgical images. Intenrationally recognised author team. Previous edition published in 2002.
---
---
Recent Advances in Dermatology: 1 is the ideal resource for keeping abreast of new developments in this constantly changing field. Written by expert authors and featuring topics such as oral lichen planus, allergic contact dermatitis to cosmetics and toiletries, and benign and malignant penile lesions, each chapter highlights the latest developments of relevance to clinical practice.
---
---
Chapman's Comprehensive Orthopaedic Surgery is the latest edition of this vast reference guide, spanning four volumes. This book is edited by internationally renowned experts in orthopaedic surgery from the University of California Davis Medical Centre. Chapman's Comprehensive Orthopaedic Surgery is an indispensable resource for orthopaedic surgeons and residents, with contributions from over 900 experts from across the globe and enhanced by 7250 full colour images. The full text, with images and videos demonstrating surgical techniques, is made available online with the purchase of the physical copy of the book.
---
---
Fully revised, new edition providing latest advances in cosmetic and plastic surgery. Discusses 3D image assessment and 2D computer simulation. Includes chapter on full face transplant. Previous edition published in 1999.
---
---
Part of the Pocket Tutor series, this book provides a logical, building-block approach to content: initial chapter on the principles of neuroimaging, followed by focus on understanding normal and abnormal images. Subsequent chapters describe specific disorders. Clinical disorders are illustrated by high-quality images with accompanying text that clearly identifies the defining features of the image. Focuses on the conditions medical students and junior doctors are most likely to see.
---
---
Part of the Pocket Tutor series this second edition features logical, sequential content offering an introduction to the clinical essentials of psychiatric practice, then chapters devoted to common groups of disorders and clinical issues, e.g. mood disorders, anxiety disorders, child and adolescent psychiatry. Fully updated to reflect the new DSM V and includes additional content on old age psychiatry and social care. New chapter on mental health services and legislation.
---
---
Published February, 2018
By
Alexander R. Vaccaro
,
Yan Wang
,
Alexander Vaccaro
,
S Rajasekaran
,
Marcel F. Dvorak
,
H. Michael Mayer
,
Kazuhiro Chiba
,
W Brian Su
,
Luiz Vialle
,
Gamal Magdy Youssef
,
F. Dvorak F. Marcel Marcel
,
Michael H Mayer
,
Brian W. Su
and
Magdy Gamal Youssef
Publisher:
Jaypee Medical
(
Jaypee Brothers,Medical Publishers Pvt. Ltd.
)
Rating:
in-stock
The Spine: Medical and Surgical Conditions is a complete, two volume, evidence based study edited by an internationally recognised team of spine surgeons based in the USA, China, Canada, Germany, Japan, Brazil, Egypt and India. The first section covers general topics in spinal medicine, followed by sections on the development of the spine, metabolic disorders, and bone grafting. Subsequent sections focus on surgery for particular parts of the spine.Later sections in the book provide information on the spine in paediatrics, adult deformity, tumours, vascular malformations and infections, complications of spinal surgery, and a final section on minimally invasive techniques. Enhanced by 1500 full colour images, The Spine: Medical and Surgical Conditions is also made available online, complete with text, images and video, with each print version.
---
---
This two volume set comprehensively covers the entire field of otolaryngology. Written by a team of otolaryngology experts from the USA, Brazil and South Africa, this authoritative book is essential for all otorhinolaryngologists in training and in practice. Enhanced by full colour images and illustrations throughout, the book provides a thorough guide for residents and experienced practitioners.
---
---
Cardiology: An Illustrated Textbook is the latest edition of this comprehensive two volume textbook, including revised chapters with the latest advances in the field of cardiology. This edition is edited by professors from the Carver College of Medicine, Iowa, and the University of California, San Francisco. Cardiology: An Illustrated Textbook is enhanced by 1600 full colour images and illustrations, many new to this edition, and an accompanying DVD.
---
---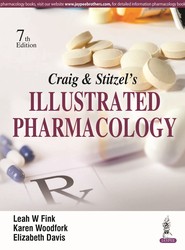 The seventh edition of this textbook has been fully revised and to provide students with the most recent knowledge and advances in the field of pharmacology. Includes case studies and multiple choice questions and answers. Previous edition published in 2003.  
---
---