The Politics of Autism explores controversies in autism epidemiology, problems in effective autism education, motivators of the alternative medicine and anti-vaccine movement in autism, and argues for the re-examination of autism research priorities from basic science to clinical studies aimed at improving lives of individuals and their families living with autism. By exposing the sub rosa truths about autism that are often impolitic or seemingly too sensitive to discuss, each chapter focuses both on the controversies themselves, and how these controversies came to be. In addition, readers will find a chapter-by-chapter bibliography with URLs to many engaging references posted on the author's website. References include popular media/internet resources.
---
---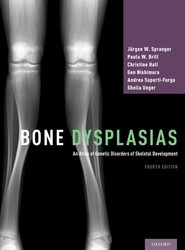 The definitive guide to genetic bone disorders, now revised and expanded with glossy photographs and radiographs "Brilliantly written and produced and deserves to be on the shelves of all pediatric radiologists. It should also be available to geneticists, counselors, and pediatricians." —Radiology This updated and expanded fourth edition of Bone Dysplasias presents age-related radiographs, photographs and clinical guidelines for more than 250 rare constitutional skeletal diseases. Focusing on diagnostically essential imaging and clinical features, each chapter is supplemented with prognostic and therapeutic information, a guide to differential diagnoses, and a short list of the most relevant publications.
---
---
Using illustrative clinical cases, this volume in the Problem-Based Learning series reviews key topics in Pediatric Anesthesia frequently encountered in clinical practice and on examinations. With real-world clinical cases and discussion questions that guide case progression, this book facilitates both individual and small-group learning. Each case is further broken down to include additional related subtopics for maximum yield. Evidence-based reviews and multiple-choice self-assessment questions follow each case, making this book ideal for continuing education in pediatric anesthesia for the generalist and specialist practitioner. Teachers and trainees in anesthesiology will take advantage of this book's features for targeted teaching, learning, and retention.
---
---
This second edition of Clinical Pediatric Anesthesia: A Case-Based Handbook offers a comprehensive review of the options, advantanges, and disadvantages of different aspects of the perioperative management of the pediatric patient, as well as examples of a wide range of relevant clinical scenarios. Chapters are organized into 15 sections and cover the field of pediatric anesthesiology with a point-of-care approach. The variety of cases presented, along with the contributors' expertise, render valuable real-life clinical situations that promote critical thinking and evaluation necessary for all pediatric anesthesiology consultants.
---
---
The Pediatric Procedural Sedation Handbook provides a comprehensive but concise review of the essential information needed to allow for the safe practice of pediatric procedural sedation. Written by a group of multidisciplinary authors, this text explores the fundamentals of sedation, procedural sedation, special patient considerations, diagnostic and therapeutic procedures, and more. This book is a must-read for any clinician involved in modern, team-based patient-centered care, including physicians, nurses, dentists, and child life specialists.
---
---
This second edition of the Oxford Specialist Handbook of Paediatric Gastroenterology, Hepatology, and Nutrition provides a comprehensive overview of these closely related disciplines, with both background information on rare and common conditions, as well as management pathways.
---
---
Publisher's Note:
Products purchased from 3rd Party sellers are not guaranteed by the Publisher for quality, authenticity, or access to any online entitlements included with the product.
Until now, review and preparation for the pediatric infectious diseases board exam could be costly, time-consuming, and generic in its approach. Moffet's Board Review for Pediatric Infectious Diseases offers pediatric residents, fellows, and practitioners a new, effective method of study that's both affordable and self-paced. This first-of-its-kind review tool prepares you for the board exam and for the challenges you'll encounter in taking care of children with infections.
---
---
Fully revised from the previous edition, with more colour plates and new chapters, Fetal Cardiology 2nd edition is the up-to-date essential guide for specialists and trainees alike.
---
---
Publisher's Note:
Products purchased from 3rd Party sellers are not guaranteed by the Publisher for quality, authenticity, or access to any online entitlements included with the product.
This substantially updated edition is clear and concise, packed with precisely written summaries of developmental and behavioral issues for all pediatric clinicians and other healthcare professionals. In a succinct, heavily bulleted style, the authors offer practical guidance on addressing important questions many parents ask about their children's development and behavior. Ideal for the busy clinician to quickly and efficiently access helpful clinical information on the fly.
---
---