Perspectives for Surgeons
PLEASE NOTE: Due to the relocation of the Wisepress distribution centre, we are unable to ship books until November 2021. Whilst you are welcome to place an order, the book/s will not be shipped until November. Thank you for your understanding.
£59.99
(To see other currencies, click on price)
Hardback
---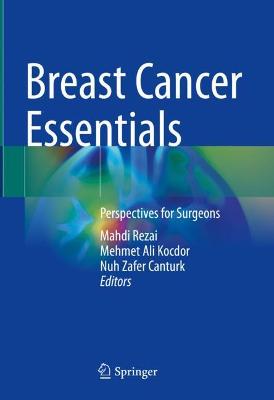 MORE ABOUT THIS BOOK
Main description:
Breast cancer is a disease requiring multidisciplinary management including surgery, medical and radiation oncology, radiology, pathology, nuclear medicine, genetic counseling, and psychological support. Each member of the team needs to be updated continuously on breast cancer treatment because of its rapidly changing nature. From the diagnostic procedures to operations and even in metastatic stages of breast cancer, surgeons play an essential part in multidisciplinary teams. After standard surgical options, oncoplastic breast surgery is rapidly becoming one of the most important surgical topics that should be learned by attending surgeons. The idea of writing this book stemmed from a collaboration between the European Academy of Senology (EAoS), European Institute of Oncology (IEO), Euro-Asian Society of Mastology (ESOMA), and SENATURK (Turkish Academy of Senology), which have been working together to promote better training in breast care for professionals. The book offers invaluable support for breast surgeons by covering critical and essential information in senology. It will also greatly benefit the other members of multidisciplinary teams, surgery residents, gynecologists, and plastic and reconstructive surgeons.
Contents:
I INTRODUCTION.- 1 History of the Breast Surgery.- 2 Milestone Studies in the Breast Surgery.- 3 Essential Anatomy.- 4 Breast Cancer Genetics.- 5 Molecular Classification of the Breast Cancer.- 6 Basic Pathology.- 7 Risk & Management Strategies.- 8 Quality Issues & Physician Awareness.- II BEFORE SURGERy.- 9 Patient Assessment, Documentation and Clinical Staging.- 10 Imaging.- 11 Interventional Radiology.- 12 Treatment-Directive Pathology.- 13 Multidisciplinary Meeting.- 14 Primary / Neoadjuvant Treatments.- 15 Decision-Making / Operative Planning.- 16 Breast.- 17 Axilla.- 18 Loco-Regional Recurrences.-19 Distant metastases.- III OPERATING ROOM & SURGERY.- 20 Situation awareness, communication and teamwork in the Operating Room.- 21 Breast conserving and oncoplastic surgery targeting oncoplastic in breast cancer.- 22 Standard breast conserving surgery.- 23 Level I therapeutic mammoplasty.- 24 Level II therapeutic mammoplasty: Round block, Batwing (Omega), Racquet techniques.- 25 Inferior pedicle mammoplasty.- 26 Superior pedicle mammoplasty.- 27 Le-Jour, Vertical Scar & Grisotti techniques.- 28 L-plasty, J-plasty, V-mammoplasty.- 29 Latissimus dorsi flap reconstruction.- 30 Mastectomy-Standard/Skin Sparing/Smiley type.- 31 Whole breast reconstruction.- 32 Implant-based reconstruction.- 33 Autologous tissue-based.- 34 Symmetrisation.- 35 Augmentation Mastopexy.- 36 Reduction mammoplasty.- 37 Fat grafting in breast reconstruction.- 38 Technical details, purification, the contraindications, complications and cosmetic results of the technique.- 39 Nipple-areola reconstruction.- 40 Lymphatic surgery.- 41 Level I-II (+) III axillary dissection.- 42 Sentinel lymph node biopsy.- 43 Sentinel lymph node biopsy in special conditions.- 44 Lympho-venous bypass & Lymphoid tissue transfer.- IV AFTER SURGERY.- 45 Immediate Patient Care.- 46 Short-Term Complications & Management.- 47 Planning Adjuvant Treatment.- 48 Radiation Treatment.- 49 Systemic Treatments.- 50 Follow-up & Long-Term Patient Care.- 51 Long-Term Complications & Management.- 52 Judicial Issues.- V ORPHAN ISSUES.- 53 Inflammatory breast cancer.- 54 Male breast cancer.- 55 Occult Breast Cancer.- 56 Breast Cancer in older women.