The Science of Mastering Life's Greatest Challenges
This book is currently unavailable – please contact us for further information.
€23.59
(To see other currencies, click on price)
Paperback / softback
---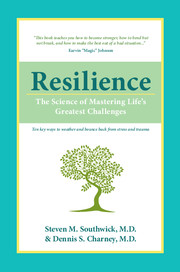 MORE ABOUT THIS BOOK
Main description:
Many of us will be struck by one or more major traumas sometime in our lives. Perhaps you have been a victim of sexual abuse, domestic violence or assault. Perhaps you were involved in a serious car accident. Perhaps you are a combat veteran. Maybe you were on the beach in Thailand during a tsunami, or in New Orleans during Hurricane Katrina. Or maybe, you are among the millions who have suffered a debilitating disease, lost a loved one or lost your job. This inspiring book identifies ten key ways to weather and bounce back from stress and trauma. Incorporating the latest scientific research and dozens of interviews with trauma survivors, it provides a practical guide to building emotional, mental and physical resilience. Written by experts in post-traumatic stress, this book provides a vital and successful roadmap for overcoming the adversities we all face at some point in our lives.
Contents:
Preface; 1. What is resilience?; 2. Optimism: belief in a brighter future; 3. Facing fear: an adaptive response; 4. Moral compass, ethics and altruism: doing what is right; 5. Religion and spirituality: drawing on faith; 6. Social support: learning the tap code; 7. Training: physical fitness and strengthening; 8. Brain fitness: challenge your mind and heart; 9. Role models: providing the road map; 10. Cognitive and emotional flexibility; 11. Meaning, purpose and growth; 12. The practice of resilience; Index.
PRODUCT DETAILS
ISBN-13: 9780521195638
Publisher:
Cambridge University Press
Publication date: July, 2012
Pages: 204
Dimensions: 156.00 x 234.00 x 13.00
Weight: 410g
Availability: Not available (reason unspecified)
Subcategories:
Psychiatry
,
Psychology
---
'[The authors] have written a crisp, user-friendly guide to the latest scientific research on resilience. With a light touch, they illuminate what seems to be every major study in the field over the last 20 years. In reading this short book, one can come away with much like a PhD or MD in the new science of resilience … splendid.' The Washington Independent Review of Books (washingtonindependentreviewofbooks.com) '… an enjoyable and informative read. Those seeking inspiration and hope that adversity can be survived will be reassured; readers who want an overview of contemporary research on resiliency will be nourished by the thorough reviews; and those seeking self-improvement advice will find many promising practices.' PsycCRITIQUES 'An important resource for all mental health clinicians and others interested in trauma and resilience.' Journal of Clinical Psychiatry