Perioperative Transeasophageal Echocardiography
This book is currently unavailable – please contact us for further information.
£120.00
(To see other currencies, click on price)
Hardback
---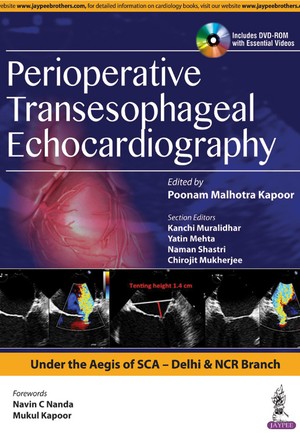 MORE ABOUT THIS BOOK
Main description:
Transoesophageal echocardiography (TOE) is the process whereby a probe with an ultrasound transducer at the tip is passed into a patient's oesophagus, enabling clinicians to diagnose cardiovascular diseases. Perioperative TOE is performed during an operation, also allowing improved anaesthetic management.
This book is a comprehensive guide to perioperative TOE for cardiac anaesthetists and cardiologists. Divided into seven sections, the text begins with an overview of the basic principles of TOE.
The following sections provide in depth discussion on the use of TOE for different cardiovascular diseases and disorders including congenital heart disease, aorta and vascular disease, valvular heart disease, ventricular function, and haemodynamic calculations.
The final section features video commentary of the accompanying DVD ROM illustrating echocardiography in the intensive care unit. Nearly 300 clinical images, diagrams and tables further enhance learning.
Key points


Comprehensive guide to perioperative transoesophageal echocardiography (TOE)


Covers the use of TOE for different cardiovascular diseases


Includes DVD ROM with video commentary


Highly illustrated with nearly 300 images and tables


Contents:
Section 1: Basic Principles Of Transeasophageal Echocardiography


Comprehensive Intraoperative Transeasophageal Echocardiography


Surgical Anatomy of the Heart


Doppler in Echocardiography


Basic Physics of Ultrasound


Section 2: Transeasophageal Echocardiography for Congenital Heart Disease


Acyanotic Congenital Heart Disease and Transesophageal Echocardiography


Section 3: Transeasophageal Echocardiography for Aorta And Vascular Disease


Vascular Access for Perioperative Care for Cardio-Surgical Patients


Ultrasound Guided Vascular Access


Echo for Percutaneous Aortic Valve Implantation


Assessment of Aortic Regurgitation

A Case of Severe MS and Severe as Pregnant Female for Cesarean Section


Examination of Aorta and Utility of Transesophageal Echocardiography (TEE) in the Diagnosis and Management of Aortic Pathology


Echocardiographic Evaluation of Aortic Regurgitation


Section 4: Transeasophageal Echocardiography For Valvular Heart Disease


Mitral Valve Assessment 2D and 3D


Mitral Valve and IHD


Transeasophageal Echocardiography of Tricuspid and Pulmonary Valve


Echocardiographic Anatomy of the Aortic Valve


Percutaneous Valve Procedures – Role of TEE


Prosthetic Valve Evaluation


Section 5: Transeasophageal Echocardiography For Ventricular Function


Transesophageal Echocardiographic Assessment of Left Ventricular Systolic Function


3D Evaluation of LV Function


Assessment of the Right Ventricular Function with Transoesophageal Echocardiography


Evaluation of Left Ventricular Diastolic Dysfunction


Echocardiographic Assessment of Cardiomyopathy


Section 6: Transeasophageal Echocardiography For Haemodynamic Calculations


Hemodynamic Calculations with Echocardiography


Epicardial Echocardiography and Epiaortic Ultrasonography


Section 7: Video Commentary Of Echo In Intensive Care Unit


Transthoracic Echocardiography in Icuemergency (Fate)


Role of Echocardiography in Management of LVAD Patients