Operating Room Leadership and Perioperative Practice Management
This book is currently unavailable – please contact us for further information.
£71.99
(To see other currencies, click on price)
Hardback
---
£58.00
(To see other currencies, click on price)
---
£58.00
(To see other currencies, click on price)
---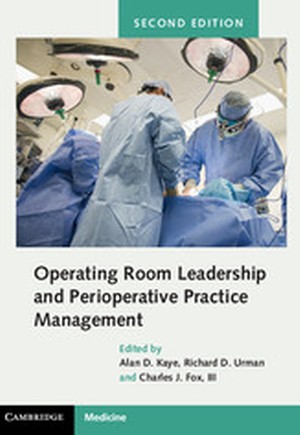 MORE ABOUT THIS BOOK
Main description:
Effective leadership is critical to ensuring safety, efficiency and maximum productivity in the operating room (OR). This practical, evidence-based book unpicks the dynamics of a successful OR environment to underline the key techniques for management of policies, systems, staff members and teams. Fully updated to include recent clinical guidelines, the book provides the 'A-Z' of OR management, including sections on metrics, scheduling, human resource management, leadership principles, economics, quality assurance, recovery and ambulatory practice. New chapters include future healthcare models, emergency preparedness and budgets amongst other topics. Written by authors with unrivalled experience in the field, chapters are laid out in an easy and clinically helpful format to assist learning, and real-life case studies cover seventy-three different clinically relevant pain topics. This book is an essential guide for anyone working in the OR including anaesthesiologists, surgeons, nurses, and administrators.
Contents:
Part I. Leadership and Strategy: 1. Leadership principles Christoph Egger and Alex Macario; 2. The path to successful operating room environment Ross Musumeci, Alan David Kaye, Charles J. Fox, III and Richard D. Urman; 3. Strategic planning Michael R. Williams; 4. Decision making: the art and the science Michael R. Williams; 5. Implications of emotional intelligence and collaboration for OR leadership and management Markus M. Luedi, Jonas Schnider and Frank Stueber; 6. Operating room culture change Shilpadevi Patil, Debbie Chandler, Charles J. Fox, III and Elyse Cornett; Part II. Economic Considerations, Efficiency, and Design: 7. Flow disruptions in surgery David S. Silver and Douglas P. Slakey; 8. Influence of operating room staffing and scheduling on operating room productivity Franklin Dexter and Richard H. Epstein; 9. Operations management and financial performance Seth Christian; 10. Reengineering operating room function Nigel N. Robertson; 11. Operating room design and construction: technical considerations Judy Dahle and Pat Patterson; 12. Operating an ambulatory surgery center as a successful business John J. Wellick; 13. Influence of patient- and procedure-specific factors on OR efficiency and decision making Markus M. Luedi, Thomas J. Sieber and Dietrich Doll; 14. Operating room management in the perioperative surgical home and other future care models Juhan Paiste, John Schlitt and Thomas R. Vetter; 15. Non-OR locations John M. Trummel, Brenda A. Gentz and William R. Furman; 16. Efficiency and scheduling Brian C. Spence and William R. Furman; 17. Operating room budgets: an overview Steve Boggs and Sanjana Vig; Part III. Surgical and Anesthesia Practice Management: 18. Preoperative evaluation and management Alicia G. Kalamas; 19. Identifying bottleneck constraints to improve the preoperative evaluation process Mitchell H. Tsai, Elie Sarraf, Kyle R Kirkham and Terrence L. Trentman; 20. Anesthesia practice management Sonya Pease; 21. Defining the anesthesia value proposition Jody Locke; 22. Anesthesia billing, coding and compliance Devona Slater; 23. Postanesthetic care unit management: building a safe and efficient service Henry Liu, Longqiu Yang, Michael Green and Alan David Kaye; 24. Pain practice management Steve Waldman; 25. Office-based surgery practice Jonathan P. Eskander, Cory Roberts and Charles J. Fox, III; 26. The future of perioperative medicine Michael R. Hicks and Laurie Saletnik; Part IV. Nursing: 27. Operating room metrics Todd Brown; 28. Operating room staffing guidelines Todd Brown; 29. Resource management Todd Brown; Part V. Safety, Standards, and Information Technology: 30. The joint commission, CMS, and other standards Shermeen B. Vakharia and Zeev Kain; 31. Sedation: clinical and safety considerations Ann Bui and Richard D. Urman; 32. Medical informatics in the perioperative period Ori Gottlieb and Keith J. Ruskin; 33. Simulation as a tool to improve patient safety Valeriy Kozmenko, Lyubov Kozmenko, Melvin Wyche and Alan David Kaye; 34. Education in operating room management Sanjana Vig, Steven Boggs, Richard D. Urman and Mitchell Tsai; 35. Organizations dedicated to and current overview of enhanced recovery after surgery Bret D. Alvis, Adam B. King, Matthew D McEvoy and Jesse M. Ehrenfeld; 36. Checklist utility in the perioperative care environment Blas Catalani and Ezekiel Tayler; 37. Anesthesiology disaster management and emergency preparedness Ezekiel Tayler, Blas Catalini, Jill Cooley and Chris Sharp; 38. Novel technology for patient engagement Matthew B. Novitch, Peter A. Gold, Aiden Feng and Mark R. Jones.
Related books
Publisher recommends