This book is not yet published – pre-order your copy now.
£36.99
(To see other currencies, click on price)
Paperback / softback
---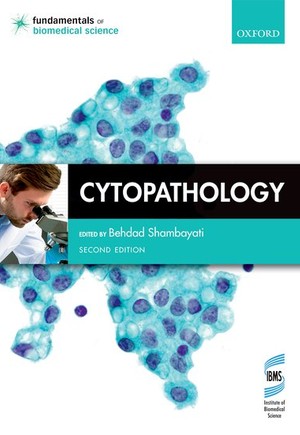 MORE ABOUT THIS BOOK
Main description:
Biomedical scientists are the foundation of modern healthcare, from cancer screening to diagnosing HIV, from blood transfusion for surgery to food poisoning and infection control. Without biomedical scientists the diagnosis of disease, the evaluation of the effectiveness of treatment, and research into the causes and cures of disease would not be possible.

The Fundamentals of Biomedical Science series has been written to reflect the challenges of practicing biomedical science today. It draws together essential basic science with insights into laboratory practice to show how an understanding of the biology of disease is coupled to the analytical approaches that lead to diagnosis. Assuming only a minimum of prior knowledge, the series reviews the full range of disciplines to which a Biomedical Scientist may be exposed-from microbiology to
cytopathology to transfusion science.

Cytopathology provides a wide-ranging overview of the microscopic study of normal and abnormal cells, showing how current visualization methods are used to study cell structure, and how early detection of abnormal cell pathology can lead to timely clinical interventions.

Related books
From the same series
---
Review from previous edition The flow of information is excellent and the text is well-written... a good introductory text for undergraduates with an interest in cytology and for professionals in training. Lucid, logical coverage of material, set out thoughtfully and supported by good illustrations and learning features that make the text student-friendly... a very useful undergraduate cytopathology textbook. Clearly written, factual and concise.