Comprehensive Healthcare Simulation: Obstetrics and Gynecology
£59.99
(To see other currencies, click on price)
Paperback / softback
---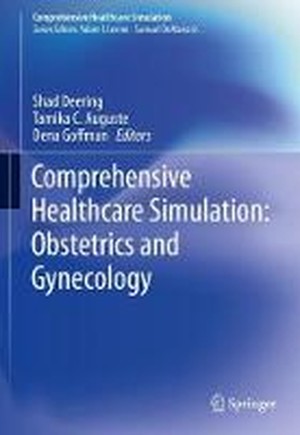 MORE ABOUT THIS BOOK
Main description:
This practical volume presents an overview for the use of simulation in obstetrics and gynecology. Chapters provide an introduction to simulation for OBGYN, simulation modalities and technologies, minimally invasive surgery, invasive obstetric procedures, simulation for global health, and the future of simulation for obstetrics and gynecology. Written and edited by leaders in the field, Comprehensive Healthcare Simulation: Obstetrics and Gynecology offers a variety of learners, including medical students, residents, practicing pediatricians, and health-related professionals, a comprehensive and easy-to-read guide on the use of simulation. This book is part of the Comprehensive Healthcare Simulation Series which provides focused volumes on the use of simulation in a single specialty or on a specific simulation topic and emphasizes practical considerations and guidance.
Back cover:
Shad Deering Professor and Chair Department of Obstetrics and Gynecology Uniformed Services of the Health Sciences Chair, Central Simulation Committee Bethesda, MD USA Tamika C Auguste Associate Professor, OBGYN Georgetown University School of Medicine MedStar Washington Hospital Center Department of OBGYN Washington, DC USA Dena Goffman Chief of Obstetrics, Sloane Hospital for Women Associate Chief Quality Officer NewYork-Presbyterian Morgan Stanley Children's Hospital & Sloane Hospital for Women Associate Professor of Women's Health in Obstetrics and Gynecology Columbia University Medical Center New York, NY USA
Contents:
PART I. INTRODUCTION TO SIMULATION FOR OBSTETRICS AND GYNECOLOGY.- Ch 1. The History of Simulation in Obstetrics and Gynecology.- Ch 2. Simulation Education Theory.- Ch 3. Essentials of Scenario Building.- Ch 4. Essentials of Debriefing and Feedback.- Ch 5. Communication and Teamwork Training in Obstetrics and Gynecology.- Ch 6. Competency Assessment in Simulation-based Training: Educational Framework and Optimal Strategies.- Ch 7. Licensure, Certification and Credentialing.- Ch 8. Simulation and Patient Safety in Obstetrics and Gynecology.- Ch 9. The Why, Who, What and Where to Implement a Simulation Program in Obstetrics and Gynecology.- PART II. SIMULATION MODALITIES AND TECHNOLOGIES IN OBSTETRICS AND GYNECOLOGY SIMULATION.- Ch 10. Standardized Patients and Gynecological Teaching Associates.- Ch 11. Simulation Modalities for Obstetrics and Gynecology.- PART III. SIMULATION OF OBSTETRICS.- Ch 12. Fundamental Obstetric Procedures.- Ch 13. Practical Approaches to Simulating Obstetric Emergencies.- Ch 14. Obstetric Critical Care.- Ch 15. Obstetric Ultrasound Guided Invasive Procedure Simulation.- PART IV. SIMULATION OF GYNECOLOGY.- Ch 16. Basic Gynecologic Encounters and Procedures.- Ch 17. Surgical Simulation in Gynecology.- PART V. OBSTETRICS AND GYNECOLOGY SIMULATION FOR GLOBAL HEALTH.- Ch 18. Obstetrics and Gynecology Simulation and Global Health Initiatives.
Related books
From the same series