Bariatric or weight loss surgery is the reduction of the size of the stomach with a gastric band or through removal of a portion of the stomach, or by resecting and re-routing the small intestine to a small stomach pouch. Metabolic surgery involves weight loss treatments and procedures to treat metabolic diseases, especially, Type 2 diabetes. This book is a guide to techniques in bariatric and metabolic surgery.
---
---
Foot and ankle problems are endemic in people with rheumatic conditions and have a significant negative impact on people's lives. This new textbook covers all aspects of managing and treating musculoskeletal pathologies, in a clear and evidence-based style to guide a broad range of clinicians through the latest information in the field.
---
---
A work from Cengage Learning on case studies for surgical technology.
---
---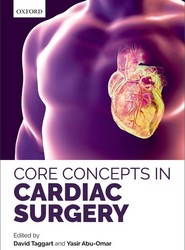 Written by an international team of renowned cardiac surgeons, and extensively illustrated with full-colour photographs and images, Core Concepts in Cardiac Surgery provides an up-to-date review of both the current literature and techniques in surgical procedures.
---
---
Fully revised from the previous edition, the Oxford Specialist Handbook of Hand Surgery 2nd edition has a greater focus on non-surgical management of hand conditions, whilst bringing surgical guidelines fully up to date.
---
---
A quick-reference, introductory guide to the essential information which a practitioner needs to know and understand when working in oral and maxillofacial medicine. Practical and concise, this handbook is the definitive guide to all common complaints and presentations.
---
---
New edition of a concise easily accessible summary of all currently available surgical guidelines. First line recommendations for investigations and treatment including level of supporting evidence
---
---
---
A definitive, accessible, and reliable resource which provides a solid foundation of the knowledge and basic science needed to hone all of the core surgical skills used in surgical settings. Presented in a clear and accessible way it addresses the cross-specialty aspects of surgery applicable to all trainees.
---
---
Aligned to the topics within the Intercollegiate Surgical Programme (ISCP) curriculum, this case-based volume covers the common clinical presentations encountered across general surgery. It outlines the key essentials for investigation, diagnosis and management in a wide variety of clinical scenarios.
---
---