Based on personal stories, a critical assessment of the multiple challenges that confront minority faculty members in the health professions
---
---
Based on personal stories, a critical assessment of the multiple challenges that confront minority faculty members in the health professions
---
---
Combining innovative political analysis with a compelling social history of those caught up in Minnesota's welfare system, Fixing the Poor is a powerful reinterpretation of eugenic sterilization.
---
---
An examination of the early work of the innovative Avon Longitudinal Study of Parents and Children Ethics and Law Committee. It will help anyone involved in other cohort studies to understand how ethical policies evolve.
---
---
This book articulates the Hippocratic Oath as establishing the medical profession by a promise to uphold an internal medical ethic that particularly prohibits doctors from killing. In its most basic and least controvertible form, this ethic mandates that physicians help and not harm the sick.
---
---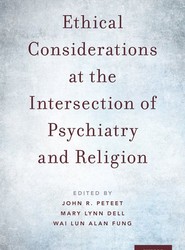 This book explores the ethical dimension of the interface between psychiatry and religion, illustrating core principles with practical examples in a variety of contexts. These include subspecialties such as child, geriatric, forensic, inpatient, and community psychiatry, and settings such as ethics committees, religious organizations, and international conflicts, psychiatric education, and research.
---
---
Men in White Coats: Treatment under Coercion provides readers with a thought-provoking look into the involuntary treatment of mentally ill patients in psychiatric practice.
---
---