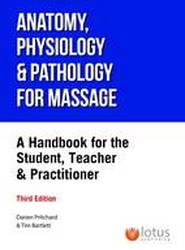 This fully updated third edition of the best-selling Anatomy, Physiology and Pathology for the Massage Therapist provides a solid base for the student and early practitioner to learn the physical make-up of the body, giving a broad introduction to the body's physical functioning.
---
---
This is the second edition of a highly successful book, first published in 2008. It is written by a well-known and respected American massage therapist who is both a teacher and a practitioner so knows what the learner needs to know.
---
---
Practical manual of the principles and practice of Yamamoto New Scalp Acupuncture. Written by an acupuncturist for acupuncturists, physical therapists and chiropractors, the book reconciles Yamamoto's theoretical needling points with actual needling points.
---
---
Offering illustrated, hands-on coverage, this book provides a guide to learning and understanding PNF as a practical tool and using it to full effect in patient treatment. Includes coverage of ICF and Motor Learning and how these concepts are applied in PNF.
---
---
"This book presents a definitive guide to understanding, applying and teaching Occupational Performance Coaching (OPC). Grounded in principles of occupational therapy, person-centredness and interprofessional frameworks of health and disability, this book will be of interest across health and rehabilitation professions"--
---
---
A timely and essential book for physical therapist and physical therapist assistant students, faculty, and practitioners, as well as clinical educators, Learning to Lead in Physical Therapy provides information on identifying, developing, and demonstrating effective leadership skills for daily practice.
---
---
A comprehensive guide to neurological rehabilitation for physical therapist assistants, Umphred's Neurorehabilitation for the Physical Therapist Assistant, Third Edition presents contemporary, evidence-based principles and techniques for examination, intervention, and treatment for individuals with neurological conditions.
---
---
This book presents the current status of shoulder instability treatment with the aim of equipping readers with a comprehensive understanding of the latest concepts of shoulder instability, diagnosis and the decision-making process, conservative treatment, state of the art surgical techniques, and management of treatment failures.
---
---
This book offers practical guidance on all procedures that may be performed within the field of hip preservation surgery, arthroscopy, and endoscopy.
---
---