Perioperative Pain Management for Orthopedic and Spine Surgery offers a concise yet comprehensive overview of the surgical spine pain management field to help practitioners effectively plan and enhance perioperative pain control. Chapters provide guidance on solving common dilemmas facing surgeons who are managing patients with pain related problems and clinical decision-making, and explore essential topics required for the trainee and practitioner to quickly assess the patient with pain, to diagnose pain and painful conditions, determine the feasibility and safety of surgical procedure needed, and arrange for advanced pain management consults and care if needed.
---
---
This great-value pack offers students a definitive resource on clinical medicine.
---
---
Dying at the Margins: Reflections on Justice and Healing for Inner-City Poor gives voice to the most vulnerable and disempowered population-the urban dying poor- and connects them to the voices of leaders in end-of-life-care. Chapters written by these experts in the field discuss the issues that challenge patients and their loved ones, as well as offering insights into how to improve the quality of their lives. Demystifying stereotypes that surround poverty, Moller illuminates how faith, remarkable optimism, and an unassailable spirit provide strength and courage to the dying poor.
---
---
The Oxford Handbook of Clinical Medicine, a peerless classic in the field, returns for a tenth edition. Thoroughly updated in line with current guidelines, this pocket-friendly book continues to be a truly indispensable companion for the practice of modern medicine.
---
---
Advancing the Science of Implementation across the Cancer Continuum provides an overview of the science of implementation and how it can improve the delivery of evidence-based cancer prevention, control, and care. Chapters explore the field of Dissemination & Implementation (D&I) research and its application to practice, a broad synthesis of relevant research and case studies illustrating each topic area, and emerging issues at the intersection of research and practice in cancer. Both comprehensive and accessible, this book is an ideal resource for researchers, clinical and public health practitioners, medical and public health students, and health policymakers.
---
---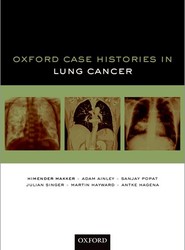 Oxford Case Histories in Lung Cancer provides a multi-disciplinary approach to the management of lung cancer, with a comprehensive collection of real-life clinical cases demonstrating the application of evidence-based recommended practice. It is the ideal day-to-day guide for all those who work with lung cancer patients.
---
---
Everything you ever needed to know about life on the wards that medical school didn't tell you. Includes practical advice coming direct from the authors' experience with topics from applying to the Foundation Programme to planning your career, and from interpreting results to performing practical procedures.
---
---
Hostility to Hospitality is one of the first books of its kind to explore the secular-sacred divide and the hostilities threatening medicine, offering a path forward for the partnership of modern medicine and spirituality. Drawing from interdisciplinary scholarship including empirical studies, interviews, history and sociology, theology, and public policy, the authors argue for structural pluralism as the key to changing hostility to hospitality.
---
---
Hospice and Palliative Medicine and Supportive Care Flashcards is a comprehensive, evidence-based book of flashcards for clinicians caring for patients who require hospice and palliative care and supportive care. Written in a clinical scenario/vignette, question and answer format, the flashcards are highly readable and serve as a source of fast answers to clinical questions in the field. A total of 300 flashcards are organized into chapters by symptom/disease and provide readers with up-to-date information that follow the core curriculum of American Board of Hospice and Palliative Medicine for ease of use and rapid review for exams.
---
---
When Cicely Saunders opened the world's first modern hospice in 1967 a quiet revolution got underway. Education, research, and clinical practice were combined in a model of 'total care' for terminally ill patients and their families that quickly had a massive impact. In Cicely Saunders: A Life and Legacy, David Clark draws on interviews, correspondence, and the publications of Cicely Saunders to tell the remarkable story of how she pursued her goals through the complexity of her personal life, the skepticism of others, and the pervasive influence of her religious faith. When she died in 2005, her legacy was firmly established in the growing field of hospice and palliative care, which had now gained global recognition.
---
---