When Cicely Saunders opened the world's first modern hospice in 1967 a quiet revolution got underway. Education, research, and clinical practice were combined in a model of 'total care' for terminally ill patients and their families that quickly had a massive impact. In Cicely Saunders: A Life and Legacy, David Clark draws on interviews, correspondence, and the publications of Cicely Saunders to tell the remarkable story of how she pursued her goals through the complexity of her personal life, the skepticism of others, and the pervasive influence of her religious faith. When she died in 2005, her legacy was firmly established in the growing field of hospice and palliative care, which had now gained global recognition.
---
---
50 Studies Every Palliative Care Doctor Should Know presents key studies that have shaped the practice of palliative medicine. Selected using a rigorous methodology, the studies cover topics including: palliative care, symptom assessment and management, psychosocial aspects of care and communication, and end-of-life care. This book is a must-read for health care professionals and anyone who wants to learn more about the data behind clinical practice.
---
---
Gender in Psycho-Oncology is the first book of its kind to provide comprehensive views on the role of gender in the adjustment of the individual and the patient-caregiver pair when dealing with cancer. The text explores the significant role of gender in diverse pairings of genders between the patient and the caregiver. It also highlights the importance of age, generation, and socio-cultural characteristics; the illness trajectory and lifespan trajectory of the individual and the patient-caregiver pair; and an ongoing sociocultural movement that is changing social role expectations based on gender.
---
---
Volunteers will have a vital role in delivering the services of the future. This book explores volunteering in hospice and palliative care worldwide, analysing how and why volunteering is changing. Key topics discussed include influences of culture, legislation, and the place of volunteering within the multi-professional team.
---
---
This is a comprehensive analysis of ethical topics in palliative care, combining clinical experience and philosophical rigor. A broad array of topics are explored from historical, legal, clinical, and ethical perspectives, offering both the seasoned clinician and interested lay reader a thorough examination of the complex ethical issues facing patients suffering from life-threatening illness.
---
---
Palliative Psychology provides provides unique and comprehensive training for psychologists specializing in palliative and end of life care.
---
---
This new edition examines the current provision of psychosocial support, taking into account the community approaches of psychosocial care, the role of volunteers in supporting psychosocial needs, and the needs of the frail elderly. It is essential reading for the fields of medicine, nursing, social work, chaplaincy, and primary care.
---
---
The Oxford Handbook of Geriatric Medicine provides user-friendly advice in a field that has limited evidence, yet makes up a substantial proportion of the work of most clinicians.
---
---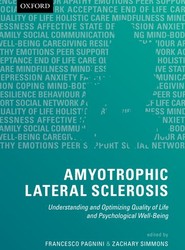 This book will provide clinicians with a comprehensive description of the psychological aspects of ALS and their management, and incorporates chapters written by recognized scholars in their respective fields.
---
---
What colour is cancer? Why do some people appear to have made miraculous recoveries? How can you tell when someone is in the final hours of their life? How can we ensure our most vulnerable are treated with the dignity they deserve?
---
---