The only one-stop resource of every medical supplier licensed to sell products in the US. This edition offers fast access to over 13,000 companies - and more than 65,000 products. This comprehensive resource saves you hours of time and trouble when searching for the equipment and supplies you want and the manufacturers who provide them.
---
---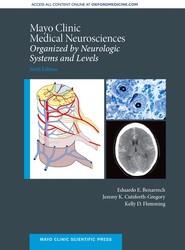 Fully updated and revised according to student feedback, the sixth edition of Mayo Clinic Medical Neurosciences: Organized by Neurologic System and Level provides a systematic approach to anatomy, physiology, and pathology of the nervous system inspired by the neurologist's approach to solving clinical problems. This volume has 4 sections: 1) an overview of the neurosciences necessary for understanding anatomical localization and pathophysiologic characterization of neurologic disorders; 2) an approach to localizing lesions in the 7 longitudinal systems of the nervous system; 3) an approach to localizing lesions in the 4 horizontal levels of the nervous system; and 4) a collection of clinical problems. This book provides the neuroscience framework to support the neurologist in a clinical setting and is also a great resource for neurology and psychiatry board certifications. This is the perfect guide for all medical students and neurology, psychiatry, and physical medicine residents at early stages of training.
---
---
Blueprints Obstetrics & Gynecology - Clinical high-yield content covers what you need to know for the USMLE, shelf exam, and your Obstetrics & Gynecology rotation!
---
---
Unlike standard exhaustive text and reference titles, Essential Facts in Cardiovascular Medicine provides the most critical facts and clinical pearls of cardiovascular medicine, in a high-yield, concise, bulleted format that can fit in your pocket. It is the perfect guide to enhance your cardiovascular knowledge, prepare for examinations, and improve clinical practice.
---
---
Containing over 75 tasks with detailed explanations and further reading, Tasks for Part 3 MRCOG Clinical Assessment is a key resource for candidates of the new Part 3 MRCOG examination.
---
---
Behavioral sciences for the next generation of health care providers - including practical features such as chapter review questions and an annotated practice exam.
---
---