It also includes some chapters on the experience of surgical sleep centers in various parts of the world.Written by leading experts in the field of sleep surgery, this book will be interesting for ENT specialists, oral surgeons, maxillo-facial surgeons, plastic surgeons, sleep doctors, neurologists and pneumologists.
---
---
Published June, 2022
By
Shahrokh C. Bagheri
,
Husain Ali Khan
,
Foad Nahai
,
Khan
,
BAGHERI
,
James D. Frame
,
Behnam Bohluli
,
Nahai
,
Bohluli
,
Frame
and
James Donaldson Frame
Publisher:
Elsevier
(
Elsevier - Health Sciences Division
)
Rating:
in-stock
---
---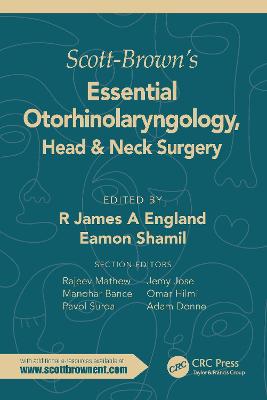 A portable handbook that provides a concise summary of ENT surgery based on Scott-Brown's Otorhinolaryngology, Head & Neck Surgery 8e. Of practical use in clinics, the ward and the operating room, and of interest to a wide range of clinicians.
---
---
---
The book assists surgeons in gaining the skills to perform endoscopic clearance of difficult areas like pterygoplataine fossa, infratemporal fossa, pterygoid plates, and the lacrimal drainage system, which offers significant advantages in terms of avoiding postoperative morbidity as compared to an external route.
---
---
---
This unique, richly illustrated atlas offers a "how-to" reference guide to the most common and innovative endoscopic surgical procedures for the middle and inner ear, based on an ex vivo ovine model.
---
---
---
Music and Hearing Aids: A Clinical Approach discusses for audiologists the up-to-date research and suggestions on modern hearing aids when used for enjoying music.
---
---
---