Niedermeyer's Electroencephalography: Basic Principles, Clinical Applications, and Related Fields, Seventh Edition keeps the neurophysiologist on the forefront of medical advancement. This authoritative text covers basic neurophysiology, neuroanatomy, and neuroimaging to provide a better understanding of clinical neurophysiological findings. This edition further delves into current state-of-the-art recording EEG activity both in the normal clinical environment and unique situations such as the intensive care unit, operating rooms, and epilepsy monitoring suites. As computer technology evolves, so does the integration of analytical methods that significantly affect the reader's interpretations of waveforms and trends that are occurring on long-term monitoring sessions.
---
---
Cajal's Neuronal Forest: Science and Art continues the tradition set forth by its sister volume Cajal's Butterflies of the Soul (OUP, 2009). This new collection contains hundreds of beautiful rarely-seen-before figures produced throughout the nineteenth century and the beginning of the twentieth century by famed father-of-modern-neuroscience Santiago Ramón y Cajal (1852-1934) and his contemporaries. Cajal was captivated by the beautiful shapes of the cells of the nervous system. He and his fellow scientists saw neurons as trees and glial cells as bushes. Given their high density and arrangement, neurons and glial resembled a thick forest, a seemingly impenetrable terrain of interacting cells mediating cognition and behavior. In unraveling the mysteries of the brain, these researchers encountered an almost infinite number of cellular forms with an extraordinary beauty, which they could not help but put pen to paper, allowing them to discover a new artistic world- the neuronal forest- that gave free rein not only to their imagination, but to a new way of viewing the brain as well.
---
---
---
---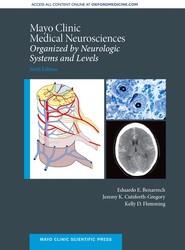 Fully updated and revised according to student feedback, the sixth edition of Mayo Clinic Medical Neurosciences: Organized by Neurologic System and Level provides a systematic approach to anatomy, physiology, and pathology of the nervous system inspired by the neurologist's approach to solving clinical problems. This volume has 4 sections: 1) an overview of the neurosciences necessary for understanding anatomical localization and pathophysiologic characterization of neurologic disorders; 2) an approach to localizing lesions in the 7 longitudinal systems of the nervous system; 3) an approach to localizing lesions in the 4 horizontal levels of the nervous system; and 4) a collection of clinical problems. This book provides the neuroscience framework to support the neurologist in a clinical setting and is also a great resource for neurology and psychiatry board certifications. This is the perfect guide for all medical students and neurology, psychiatry, and physical medicine residents at early stages of training.
---
---
---