Atlas of Liver Transplantation
This book is currently unavailable – please contact us for further information.
£284.00
(To see other currencies, click on price)
Hardback
---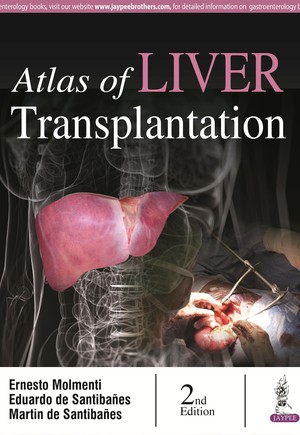 MORE ABOUT THIS BOOK
Main description:
This new edition is a comprehensive guide to the complete field of liver transplantation for practising transplant surgeons.
Presented in a step by step format, the book begins with an overview and discussion on different types of liver disease. Pre- and post-transplant considerations and both deceased and live donor evaluation are examined in depth. The following sections describe operative technique, complications, pathology, radiology and much more. Topics have been fully revised to provide the most up to date information, and the atlas is highly illustrated with surgical images and figures.
The book is authored by internationally recognised experts in the field of transplant surgery, led by Ernesto Molmenti from North Shore-LIJ Health System and School of Medicine, New York. Previous edition published in 2002.




Key Points


Second edition of comprehensive guide to liver transplantation


Fully revised to provide the most up-to-date information


Authored by internationally recognised experts led by Ernesto Molmenti


Previous edition (9780721695518) published in 2002


Contents:
Section 1: Overview


Overview


Liver Anatomy


Indications for Transplantation


The Liver in Mythology and History


Evolution of Liver Transplantation


Section 2: Liver Disease - Native and Recurrent


Alcoholic Liver Disease


Autoimmune Hepatitis


Budd-Chiari Syndrome


Cholangiocarcinoma


Drug Induced Liver Injury


Fulminant Hepatic Failure


Hematological Disorders


Hepatic Encephalopathy


Hepatitis A


Hepatitis B


Hepatitis C


Hepatocellular Carcinoma


Metastases


NASH


Other Causes of Liver Failure     


Primary Biliary Cirrhosis


Sclerosing Cholangitis


Section 3: Pre and Post Transplant Considerations


Bariatric Surgery/Weight Loss in the Liver Transplant Candidate/Recipient


Ethics


Hematology


Infections


Liver Lesions


Malignancies


Neurology


Nutrition


Ob/Gyn


Oral Health


Psychiatry


Preoperative Pulmonary Evaluation in Liver Transplant Patients


Quality of life


Non-Compliance


Renal Function and Liver Transplantation


Vaccinations


Section 4: Deceased Donor Evaluation


Biopsy Considerations


Deceased Donor Evaluation


Deceased Donor Management


Donor Grading Classifications


Expanded Criteria Donors


Infectious Risks Associated With Donors


Moving Donors from Hospitals to Regional Stand-Alone


Section 5: Live Donor Evaluation
Section 6: Pharmacology
Section 7: Anesthesia
Section 8: Operative Technique


Deceased Donor Procurement 


Specific Considerations: DCD donors


Specific Considerations: Machine Preservation of Liver Allografts


Specific Considerations: Organ Preservation Techniques


Specific Considerations: Aortic Cannulation in Donors with Distal Aortic and IVC Pathologies and/or Injuries         


Section 9: Operative Technique - Recipient


Back Table Preparation


Classic Technique of Implantation


Piggyback


Recipient Hepatectomy


Split Liver


Section 10: Operative Technique - Transplant and Post-Transplant Challenges


Arterial Grafts


Arterial Reconstructions


Auxiliary Transplants


Combined Liver-Heart Transplantation


Cavo-Atrial Shunt in Instances of Supra-Hepatic IVC Stenosis


Combined Liver-Intestine Transplantation


Combined Liver-Kidney Transplantation


Combined Liver-Pancreas Transplantation


Emergency Hepatectomy


Immediate and Early Failure of the Transplanted Liver


IVC Thrombosis


Liver Transplantation in Hiliar Cholangiocarcinoma


Liver Transplantation in Patients with Diffuse (Grade IV) Portal Vein Thrombus


Portal Vein Arterialization in Liver transplantation


Portal Vein Thrombosis


Retransplantation


Situs Inversus Donors


Situs Inversus Recipient


Venous Grafts


Venous Reconstructions


Section 11: Operative Technique – Live Donor


Left Hepatectomy


Left Lateral Hepatectomy


Liver Transplant with Dual Donor


Recipient


Right Hepatectomy


Section 12: Post Transplant Considerations


Allograft Function


Biliary Complications


Biliary Reconstruction Techniques


Cardiopulmonary Complications


Fluid Abdominal Collections


Gastrointestinal Complications


ICU Management


Post-Operative Guidelines:


Rejection


Vascular Complications


Section 13: Quality Management
Section 14: Risk Management
Section 15: Immunology - Basic Science


Cellular Therapy, Tissue Engineering And Bioartificial Organs


Epigenetics


Ischemia Reperfusion


Tolerance


Section 16: Pathology


Liver Pathology


Renal Dysfunction Associated with Liver Disorders: Histopathological Aspects


Section 17: Cutaneous Manifestations Of Liver Disease
Section 18: Pediatric Transplantation


Indications Includes: Biliary Atresia, Cholestatic Liver Disease, Cystic Fibrosis, Hepatic Malignancy, Metabolic Disease, Other


Monosegmental Liver


Pediatric Transplantation


Section 19: Radiology


Biliary Imaging


Body Wall Imaging


Gastrointestinal Imaging


Hematology - Oncology Imaging


Liver Lesions


Liver Parenchyma


Neurological Imaging


Preoperative Evaluation


Pulmonary Imaging


Vascular Imaging