Pervasive Health Knowledge Management
£139.50
(To see other currencies, click on price)
Hardback
---
£139.50
(To see other currencies, click on price)
---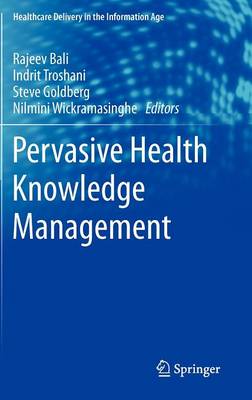 MORE ABOUT THIS BOOK
Main description:
Pervasive healthcare is an emerging research discipline, focusing on the development and application of pervasive and ubiquitous computing technology for healthcare and wellness. Pervasive healthcare seeks
to respond to a variety of pressures on healthcare systems, including the increased incidence of life-style related and chronic diseases, emerging consumerism in healthcare, need for empowering patients and
relatives for self-care and management of their health, and need to provide seamless access for healthcare services, independent of time and place. Pervasive healthcare may be defined from two perspectives. First, it is the development and application of pervasive computing (or ubiquitous computing, ambient intelligence) technologies for healthcare,
health and wellness management. Second, it seeks to make healthcare available to anyone, anytime, and anywhere by removing locational, time and other restraints while increasing both the coverage and quality
of healthcare. This book proposes to define the emerging area of pervasive health and introduce key management principles, most especially knowledge management, its tools, techniques and technologies. In addition, the book takes a socio-technical, patient-centric approach which serves to emphasize the importance of a key triumvirate in healthcare management namely, the focus on people, process and technology. Last but not least the book discusses in detail a specific example of pervasive health, namely the potential use of a wireless technology solution in the monitoring of diabetic patients.
Feature:
Introduction to emerging research in pervasive healthcare
Focuses on application of pervasive computing for chronic disease management, particularly diabetes
Back cover:
Between rising costs and decreasing accessibility, the present health care picture is fraught with shortcomings—a discouraging scenario for the millions of patients struggling with chronic diseases such as diabetes and hypertension. In response, computer technology is emerging as a key factor in the transition from inefficient centralized health systems toward patient-centered, patient-involved care: pervasive healthcare. 
In straightforward fashion, Pervasive Health Knowledge Management systematically explains how mobile technologies and knowledge management (KM) can streamline health systems by removing time and place limitations, reducing costs, and giving patients a more proactive part in managing their conditions. The book defines the role of KM in pervasive healthcare and analyzes its component processes and technologies. Chapters examine how and why KM works, review KM initiatives within and outside the U.S., and offer extended coverage of possibilities for ubiquitous computing in managing diabetes. Together, they outline a future that meets mounting chronic health concerns with efficient, cost-effective, patient-empowering strategies. Highlights of the coverage:
Implicit and explicit knowledge assets in healthcare.
Using pervasive technologies to manage knowledge in crisis situations.
Smart phone application design and knowledge management for people with dementia.
A pervasive technology solution for supporting diabetes self-care.
Examining the business and IT aspects of wireless enabled healthcare solutions.
Developing an internet-based chronic disease self-management system.
Healthcare administrators and researchers in healthcare management, health policy, and health services research will find detailed in Pervasive Health Knowledge Management a visionary approach to many of the most pressing problems in their fields.
Contents:
Part I: Why Pervasive Healthcare and KM?.- Part I Introduction.- Chapter 1.Pervasive Computing and Healthcare.- Chapter 2. Implicit and Explicit Knowledge Assets in Healthcare.- Chapter 3. Regulating Pervasive e-Health Services.- Chapter 4. e-Health Complexity and Actor-Network Theory.- Chapter 5. e-health trends.- Part II: KM and Pervasive Health.- Part II Introduction:  Making sense of Pervasive Healthcare: the Role of Knowledge Management.- Chapter 6. Managing Knowledge in Crisis Scenarios: the Use of Pervasive Technologies.- Chapter 7. The Analysis and Design of a Pervasive Health Record: Perspectives from Malaysia.- Chapter 8. Quality analysis of Sensors Data for Personal Health Records on Mobile devices.- Chapter 9. Smartphone Application Design and Knowledge Management for People with Demintia.- Part III: The INET Solution and Diabetes Self-Care.- Part III Introduction: Critical Perspectives on a Possible Solution.- Chapter 10. A Pervasive Technology Solution for Supporting Diabetes Self-Care.- Chapter 11. Achieving m-Health Excellence.- Chapter 12. Why Use Wireless to Monitor Chronic Diseases: the Case of Diabetes.- Chapter 13. An Examination of the Business and IT aspects of Wireless Enabled Healthcare Solutions.- Chapter 14. Applying the IPM Framework to Improve Remote Management in the Context of Chronic Disease.- Part IV: Various Global Initiatives.- Part IV Introduction: The Possibilities Are Only Limited by Our Imaginations.- Chapter 15. Online Health Information for Chronic Disease: Diabetes.- Chapter 16. Development of an Internet-Based Chronic Disease Self-Management System.- Chapter 17. Enablers of Implementing Knowledge Management Systems for Better Organisational Outcomes: An Indian Study.- Chapter 18. Expectations, Usability and Job Satisfaction, as Determinants for the Perceived Benefits for the Use of Wireless Technology in Healthcare.- Chapter 19. Web 2.0 Panacea or Placebo for Superior Healthcare Delivery.- Chapter 20. e-Health Readiness assessment from HER Perspective.- Chapter 21. Identifying the Taiwanese Electronic Health Record Systems Evaluation Framework and Instrument by Implementing the Modified Delphi Method.- Epilogue.
Related books
Publisher recommends
Related books
From the same series