Practical examples are illustrated throughout the book

Plentiful exercises are presented to further reinforce the concepts discussed.

Research in frontier studies and analyses is laid–out in such a way as to seem accessible and understandable.

The R language is employed throughout.
---
---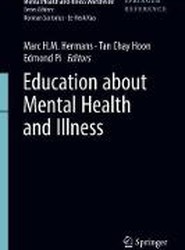 This book highlights the best educational practices for the professionals dealing with mental health and illness. While attempting an overall review of the current state-of-the-art in psychiatry education, the book focuses on recent developments and controversies in undergraduate and postgraduate psychiatric education around the globe.
---
---
This open access book identifies and discusses biodiversity's contribution to physical, mental and spiritual health and wellbeing. Furthermore, the book identifies the implications of this relationship for nature conservation, public health, landscape architecture and urban planning - and considers the opportunities of nature-based solutions for climate change adaptation.
---
---
A STIRRING EXAMINATION OF A LOOMING CRISIS Virtually everyone has taken antibiotics. They can be lifesavers — or they can be useless. But what are they? How are they used? And what happens as the effectiveness of antibiotics begins to decline? Antibiotics: What Everyone Needs to Know® examines the personal and societal implications of our planet's most important — and arguably most overused — medications. In a question-and-answer format, it unpacks the most complicated aspects of this issue, including what the future holds as antibiotics lose their might.
---
---
Out in Time explores the life experiences of three generations of gay men — the Stonewall, AIDS, and Queer generations — arguing that while there are generational differences in the lived experiences of young gay men, and each one confronts its own unique historical events, realities, and socio-political conditions, there are consistencies across time that define and unify the identities of gay men.
---
---
AN INNOVATIVE AND ESSENTIAL NEW TOOL IN FIGHTING HEALTHCARE-ASSOCIATED INFECTIONS The Handbook of Pediatric Infection Prevention and Control is the most comprehensive, practical resource available on infection prevention across the spectrum of paediatric healthcare settings, including acute care hospitals, ambulatory practices, and long-term care facilities. It addresses the nuances and challenges specific to paediatric infection prevention, providing expert guidance on topics where evidence-based guidelines don't currently exist. *** The Handbook of Pediatric Infection Prevention and Control is a publication of the Paediatric Infectious Diseases Society, the world's largest organisation dedicated to the treatment, control, and eradication of infectious diseases that affect children.
---
---