Drawing on the author's experiences ranging from the world's most advanced hospitals to revolutionary new approaches in India and Africa, this book will challenge everything from the role of healthcare in the world economy to the training and leadership of the medical profession and the role of women in the workforce.
---
---
Lupus, a disease of the immune system, can be quite deadly, claiming the lives of thousands of patients yearly. Dr. Daniel J. Wallace is one of the world's leading authorities on this disorder, an eminent clinician who has treated over 3,000 lupus patients, the largest such practice in America. The Lupus Book, originally published in 1995, immediately established itself as the most readable and helpful book on the disease. Now Dr. Wallace has once again completely revised The Lupus Book, incorporating a wealth of new information. The Sixth Edition of The Lupus Book offers these patients and their families a wealth of reliable, up-to-date information that will help them manage the disease and live a happier life.
---
---
This title discusses how globalization impacts the health of individuals and populations. It focuses on how globalization processes have impacted various social determinants of health such as income, employment, or migration patterns, and how this in turn shapes inequities in health outcomes.
---
---
This book outlines how the expansion of EU power is taking place through law and policy, in public health and health care. How is EU law and policy in the field of human health adopted, who are the institutional actors involved, and what is the impact of these developments for fundamental rights?
---
---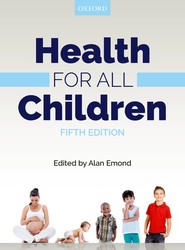 The new edition of Health for all Children, the leading authority in the field, has been fully revised and updated to incorporate the key updates and developments on how the health of children can best be protected and promoted, making it essential reading for anyone involved in the care and welfare of children.
---
---
Invisible Visits analyzes why Black middle-class women continue to face inequities in securing fair, equitable, and high-quality healthcare. Unlike other works on health disparities, it integrates social science, public health, and the humanities to better understand why Black women do not receive a proper standard of care at the doctor.
---
---
In South Asian's, the cardiovascular diseases of stroke and coronary heart disease (CVD) are epidemic, and diabetes mellitus (type 2) is pandemic. This book presents a synthesis that can help guide prevention, clinical care and research.
---
---
Fitness For Work is the occupational physician's bible and an invaluable resource for all occupational health practitioners. It provides evidence based and authoritative advice and guidance to those faced with clinical problems in the occupational health clinic.
---
---