Handbook of Clinical Child Neuropsychology
This book is not yet published – pre-order your copy now.
PLEASE NOTE: Due to the relocation of the Wisepress distribution centre, we are unable to ship books until November 2021. Whilst you are welcome to place an order, the book/s will not be shipped until November. Thank you for your understanding.
£139.99
(To see other currencies, click on price)
Paperback / softback
---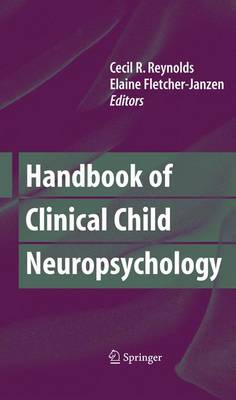 MORE ABOUT THIS BOOK
Main description:
Every chapter has been updated to reflect current thought and research in the field. Chapters devoted to specialized tests in neuropsychology have been updated to reflect new editions of these popular instruments. Special topic chapters have been added such as working in pediatric coma rehabilitation, using the planning, attention, sequential, simultaneous theory of neuropsychological processes, additions on ADHD, and more appear written by the leading experts and practitioners in these fields to reflect the demands of current practice in clinical child neuropsychology.
Contents:
Foundations and Current Issues.- Development of Neuropsychology as a Professional Psychological Specialty: History, Training, and Credentialing.- Development of the Child's Brain and Behavior.- Development of Cerebral Lateralization in Children.- Development of Higher Brain Functions: Birth Through Adolescence.- Neuropsychology of Child Psychopathology.- Neurodevelopmental Malformations: Etiology and Clinical Manifestations.- Pediatric Brain Injury: Mechanisms and Amelioration.- Neuropsychological Basis of Learning Disabilities.- Measurement and Statistical Problems in Neuropsychological Assessment of Children.- Models of Inference in Evaluating Brain-Behavior Relationships in Children.- Neuropsychological Diagnosis.- Halstead-Reitan Neuropsychological Test Batteries for Children.- The Nebraska Neuropsychological Children's Battery.- Applications of the Kaufman Assessment Battery for Children, 2nd Edition in Neuropsychological Assessment.- Clinical Neuropsychological Assessment with the Test of Memory and Learning, Second Edition.- Utilizing a Neuropsychological Paradigm for Understanding Common Educational and Psychological Tests.- Assessment of Behavior and Personality in the Neuropsychological Diagnosis of Children.- Psychophysiological Evaluation of Neuropsychological Disorders in Children.- The Assessment of the Hispanic Child.- Techniques of Intervention.- Neurocognitive Interventions for Childhood and Adolescent Disorders: A Transactional Model.- Brain Injury Rehabilitation of Children and Youth: Neurodevelopmental Perspectives.- The Neuropsychology of Pediatric Epilepsy and Antiepileptic Drugs.- Neuropsychological Effects of Stimulant Medication on Children's Learning and Behavior.- Nonstimulant Psychotropic Medication: Desired and Adverse Cognitive Events.- Special Topics in Clinical Child Neuropsychology.- Child Clinical Neuropsychology of Drug Abuse.- Neuropsychological Aspects of Attention-Deficit Hyperactivity Disorder.- Neurobehavioral and Neurodevelopmental Sequelae Associated with Pediatric HIV Infection.- Neuropsychological Sequelae of Chronic Medical Disorders in Children and Youth.- Coping and Adjustment of Children with Neurological Disorder.- Child Forensic Neuropsychology: A Scientific Approach.- Neuropsychology and Coma Management.- Neuropsychological Aspects of Pervasive Developmental and Autism Spectrum Disorders.- Using the Planning, Attention, Simultaneous, Successive (PASS) Theory Within a Neuropsychological Context.- Erratum.