Forensic Medicine in Western Society
£18.99
(To see other currencies, click on price)
Paperback / softback
---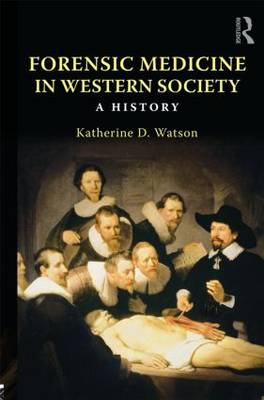 MORE ABOUT THIS BOOK
Main description:
The first book of its kind, "Forensic Medicine in Western Society: A History" draws on the most recent developments in the historiography, to provide an overview of the history of forensic medicine in the West from the medieval period to the present day. Taking an international, comparative perspective on the changing nature of the relationship between medicine, law and society, it examines the growth of medico-legal ideas, institutions and practices in Britain, Europe (principally France, Italy and Germany) and the United States. Following a thematic structure within a broad chronological framework, the book focuses on practitioners, the development of notions of 'expertise' and the rise of the expert, the main areas of the criminal law to which forensic medicine contributed, medical attitudes towards the victims and perpetrators of crime, and the wider influences such attitudes had. It thus develops an understanding of how medicine has played an active part in shaping legal, political and social change.
Including case studies which provide a narrative context to tie forensic medicine to the societies in which it was practiced, and a further reading section at the end of each chapter, Katherine D. Watson creates a vivid portrait of a topic of relevance to social historians and students of the history of medicine, law and crime.
Contents:
Contents Introduction 1. The Legal Inheritance 2. Medico-Legal Practice before the Modern Period 3. Experts and Expertise 4. Criminal Responsibility and the Insanity Defence 5. The Medicalization of Deviance 6. Twentieth-Century Developments in Forensic Medicine and Science Bibliography.