Forensic Neuropathology covers problematic medicolegal issues to provide an evidence base for many of the complex medicolegal questions raised by forensic work. It illustrates autopsy approaches to the nervous system at autopsy to familiarise the practicing pathologist and give them confidence.
---
---
This book describes clinical and forensic toxicology practice with a strong emphasis on the laboratory investigation of suspected poisoning and interpretation of findings within a clinical or forensic context.
---
---
Managing Personality Disordered Offenders: A Pathways Approach describes how the OPD Strategy has been implemented by a consortium of mental health trusts in the UK.
---
---
---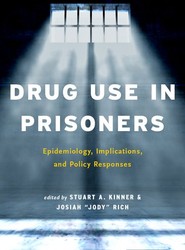 This edited volume provides the first ever comprehensive, international and multi-disciplinary review of the evidence regarding substance use and harms in people who cycle through prisons and jails. Grounded in solid evidence and a human rights framework, the book provides a roadmap for evidence-based reform.
---
---