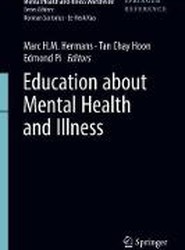 This book highlights the best educational practices for the professionals dealing with mental health and illness. While attempting an overall review of the current state-of-the-art in psychiatry education, the book focuses on recent developments and controversies in undergraduate and postgraduate psychiatric education around the globe.
---
---
One of the paradoxes about psychiatry is that we have never known more about and better treated mental disorders, yet there exists so much unease about the practice of mental healthcare. Patients feel still stigmatized, psychiatrists are struggling with their roles in a rapidly changing system of healthcare, there is lack of consensus about what mental disorders are and what the focus of psychiatry should be.
---
---
Therapists help their patients improve through a combination of words and a therapeutic relationship. To do this effectively, practitioners need to know not only what to intervene on (i.e., how to identify and understand clinical problems) but also how to intervene (viz., what techniques to use). This book teaches therapists how to develop and use the many techniques of psychodynamic psychotherapy. Along with providing step-by-step instructions for techniques, it also describes the characteristics of "good" interventions and provides tips for assessing their effectiveness.
---
---