Showing
10
of 14 results for "Series: The European Society of Cardiology Series"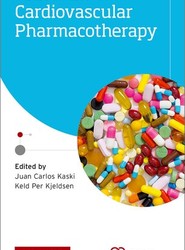 The ESC Handbook on Cardiovascular Pharmacotherapy, based on the most recent guidelines in cardiovascular pharmacology, and containing a comprehensive A-Z formulary of common and less commonly used cardiac drugs and drug groups, provides practical and accessible guidance on all areas of drug prescribing.
---
---
Providing the background information behind clinical practice, with in-depth peer-reviewed articles and broad coverage of the field, The ESC Textbook of Cardiovascular Medicine and its digital counterpart, ESC CardioMed, are invaluable resources for those working in cardiovascular medicine across the world.
---
---
This highly comprehensive and informed textbook has been prepared by the Cardiovascular Magnetic Resonance section of the European Society of Cardiology association on imaging, the EACVI. The EACVI Textbook of Cardiovascular Magnetic Resonance is the authority on the subject.
---
---
This highly illustrated textbook has been prepared by the Working Group on Development, Anatomy and Pathology of the European Society of Cardiology (ESC). The textbook is the authority on cardiovascular development from a perspective of both basic scientists and clinicians.
---
---
The EHRA Book of Interventional Electrophysiology is the second official textbook of European Heart Rhythm Association (EHRA). Taking a case based approach, the textbook it assists device specialists in tackling both common and unusual situations that they may encounter during daily practice.
---
---
The ESC Textbook of Vascular Biology is a rich and clearly laid-out guide by leading European scientists providing comprehensive information on vascular physiology, disease, and research.
---
---
Now with new imaging tools and more illustrative cases, this extensively updated second edition of the successful EAE Textbook of Echocardiography is a valuable resource to support not only those with an interest in echocardiography but also those seeking the information needed for accreditation and training through the EACVI.
---
---
Combining an accessible and practical how-to manual with a comprehensive textbook, together with full online access to both resources, this pack provides medical professionals with a great-value resource covering all aspects of preventive cardiology.
---
---
The ESC Handbook of Preventive Cardiology is a 'how-to' manual for busy healthcare professionals to help them contribute practically to the prevention of cardiovascular disease.
---
---
The EACVI Echo Handbook is the perfect companion for making both every day and complex clinical decisions. Designed and written by experts for use in the clinical arena, this practical guide provides the necessary information for reviewing, or consulting while performing or reporting on an echo or making clinical decisions based on echo findings.
---
---