Showing
10
of 96 results for "Series: Oxford Library of Psychology"
International in scope and with contributions from the field's most eminent scientists and practitioners, The Oxford Handbook of Clinical Child and Adolescent Psychology is a state-of-the-science volume providing comprehensive coverage of the psychological problems and disorders of childhood.
---
---
The Oxford Handbook of DBT charts the development of DBT from its early inception to the current cutting edge state of knowledge about both the theoretical underpinnings of the treatment and its clinical application across a range of disorders and adaptations to new clinical groups.
---
---
The Oxford Handbook of Voice Perception gathers in forty chapters the most exciting research from several disciplines related to voice perception. In particular, it draws attention to what has not been the focus of this field of research - the perceptual and cerebral mechanisms underlying nonverbal information processing in voices.
---
---
Health is often studied by drilling down into targeted domains, even though growing evidence documents that most illnesses are influenced by a multitude of biological, psychological, and social factors working interactively together. This Handbook showcases innovative new lines of integrative health research that put the pieces together to tell a bigger, more complete story.
---
---
4E cognition (embodied, embedded, enactive, and extended) assumes that cognition is shaped and structured by dynamic interactions between the brain, body, and both the physical and social environments. With essays from leading scholars and researchers, The Oxford Handbook of 4E Cognition is the definitive work on this burgeoning field.
---
---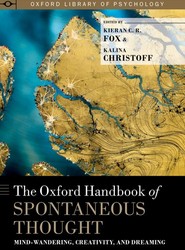 This Handbook is the first of its kind to bring together views from neuroscience, psychology, philosophy, phenomenology, history, education, contemplative traditions, and clinical practice to explore the ubiquitous but poorly understood mental phenomena that we collectively call 'spontaneous thought,' including mind-wandering, daydreaming, insight, creative thinking, and dreaming.
---
---
Fully revised to reflect the DSM-5, the second edition of The Oxford Handbook of Eating Disorders features the latest research findings, applications, and approaches to understanding eating disorders. Including foundational topics alongside practical specifics, like literature reviews and clinical applications, this handbook is essential for scientists, clinicians, and students alike.
---
---
The Oxford Handbook of Aphasia and Language Disorders integrates neural and cognitive perspectives, providing a comprehensive overview of the complex language and communication impairments that arise in individuals with acquired brain damage.
---
---
The Oxford Handbook of Hope provides a comprehensive overview of the past twenty five years of research demonstrating when, how, and why hope promotes positive outcomes across contexts and the lifespan.
---
---
Stigma leads to poorer health. In The Oxford Handbook of Stigma, Discrimination, and Health, leading scholars identify stigma mechanisms that operate at multiple levels to erode the health of stigmatized individuals and, collectively, produce health disparities. This book provides unique insights concerning the link between stigma and health across various types of stigma and groups.
---
---