Showing
10
of 10 results for "Series: Advanced Topics in Science and Technology in China"
---
---
This comprehensive book spans the topic from basic molecular mechanisms to societal issues. Topics include General Allergy; Allergenic Sources and Allergens; Diagnosis; Therapies and Pharmacy; Hypoallergenic Products; Environment, Hygiene and Societal Issues.
---
---
---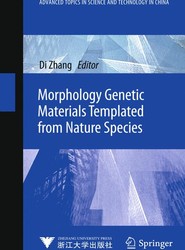 Perhaps the first book-length treatment of this subject, this comprehensive and up-to-date survey of research into bio-inspired functional materials includes materials science and engineering aspects of fabrication as well as properties and applications.
---
---
---
---
This interdisciplinary book combines electronics with biology and medicine, providing an overview of biomedical sensors and measurement. The text describes the basic theory and technology, as well as the physical and chemical sensors, biosensors and their applications in biomedicine.
---
---
This presentation of the cytobiological characteristics of mesenchymal stem cells covers their isolation and culture to the repairing of injured myocardium and tissue reconstruction in vivo, including results that point to new treatments for cardiac diseases.
---
---
---