The first substantial history of psychological thought in Classical Greek medicine, showing the relevance of ancient ideas to modern debates.
---
---
---
The Science of Making Friends: Helping Socially Challenged Teens and Young Adults + DVD Set includes the book The Science of Making Friends: Helping Socially Challenged Teens and Young Adults as well as a DVD.
---
---
Using activity cards as a basis for communication, this inspiring picture book for 4-10 year olds shows how children on the autism spectrum, or children who find it hard to communicate with their peers, can learn to express themselves through simple question and answer exercises.
---
---
Published June, 2017
By
Gary Mesibov
,
Lawrence A. Dubin, J.D.
,
Emily Horowitz, Ph.D.
,
Alan Gershel
,
Melissa Sreckovic
,
Kenneth M. Mogill
,
Dennis P. Sugrue
,
Mark H. Allenbaugh
,
Richard Wollert
,
Alexander Skelton
,
Lawrence A. Dubin
and
Emily Horowitz
Publisher:
Jessica Kingsley Publishers
Rating:
in-stock
Arguing for reform in the judicial treatment of people convicted of sex offenses, this book examines how sentencing policies are based on emotion rather than research. Using the lens of harsh sex offense prosecutions of those with developmental disabilities, this book highlights the hysteria underlying our approach to sex offenses.
---
---
The latest edition in the Growing Up with Social Stories series demonstrates how to build resilience in young people with autism. Using the highly effective Social Stories(TM) model, this book focusses on writing and illustrating stories to develop resilience specifically and coping strategies in response to particular challenges.
---
---
This trailblazing book equips practitioners to help clients with autism live well, using adaptable solution-focused methods. It shows how to approach autism in a positive, respectful way, and to understand clients' ways of thinking so you can effectively guide them to find their own solutions.
---
---
An essential guide to everything that they don't teach in traditional medical and psychiatric training about how to begin-and further develop-an academic career.
---
---
---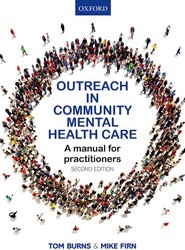 Outreach in Community Mental Health Care: A Manual for Practitioners offers readers a comprehensive and practical guide to treating patients in the community setting.
---
---