Clinical Biochemistry Lecture Notes presents the fundamental science behind common biochemical investigations used in clinical practice. Taking a system-based approach, it explores the underlying physiological rationale for tests, with each test explained within the context of disruption by disease.
---
---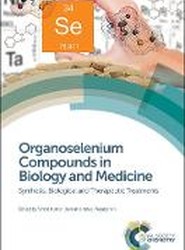 Published September, 2017
By
Thomas Wirth
,
Claus Jacob
,
Vimal Kumar Jain
,
Indira Priyadarsini
,
Ludger A Wessjohan
,
Claudio Santi
,
H.B. Singh
,
Vito Lippolis
,
M. Iwaoka
,
Hiromune Ando
,
H. B. Singh
and
K. Indira Priyadarsini
Publisher:
Royal Society of Chemistry
Rating:
in-stock
This book discusses organoselenium chemistry and biology in the context of its therapeutic potential, taking the reader through synthetic techniques, bioactivity and therapeutic applications
---
---
---
Thirty carefully selected, peer-reviewed contributions from the International Conference on Pure and Applied Chemistry (ICPAC 2016) are featured in this edited book of proceedings. ICPAC 2016, a biennial meeting, was held in Mauritius in July 2016.
---
---
---
---
---