This unique pocketbook provides comprehensive coverage of ENT and Ophthalmology. The requirements of the new GP Contract are linked directly to the basic treatment information, demonstrating the points awarded and how best to achieve these.
---
---
Fully revised second edition proving latest advances in diagnosis and management of otolaryngologic disorders. Includes 36 new chapters, many with focus on paediatric conditions. US-based author team. Previous edition published in 2001.
---
---
---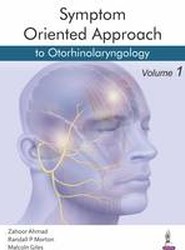 Symptom Oriented Otolaryngology: Head & Neck Surgery – Three Volume Set is an extensive, illustrated review of a broad range of symptoms in otolaryngology, edited by a team of New Zealand based experts in the field. The first volume covers head and neck, and laryngology, and the second volume covers rhinology and facial plastics. The final volume covers otology, with a section on paediatrics. This comprehensive book is enhanced by 900 full colour images across 1200 pages, making this an essential resource for consultant otolaryngologists and residents.
---
---
---
Quick reference for audiology students, new clinicians, and any experienced audiologists who want easy access to diagnostic information for rapid review.
---
---
Explains hearing aid compression, fitting methods, and real ear measurement for those studying to become hearing health care professionals, including audiologists and hearing instrument practitioners.
---
---
---
This clearly structured and illustrated atlas, with numerous high-quality pre-, intra-, and postoperative pictures, documents the techniques for dealing with problems typically encountered following a previous failed rhinoplasty. Each chapter describes the authors procedure for treating the problem and the precautions to avoid similar failures.
---
---